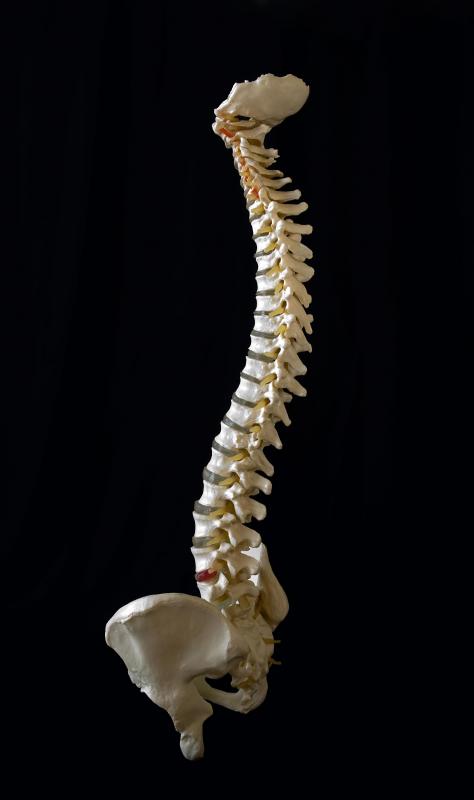 A spinal board is a flat, full-body support that usually measures around 73 by 16 inches (84 x 40 cm) and weighs, unloaded, about 15 pounds (7 kg). Running along the edge of the board are holes through which straps are threaded and used to immobilize and secure the patient. This restraining medical equipment is used to restrict the movement of an injured patient who may have sustained a spinal injury. Most boards have extra straps or attachable foam padding to further immobilize the head and neck. Spinal boards are also called long spine boards, spineboards, or backboards.
Spinal boards need to be extremely sturdy, but lightweight. X-rays also need to be able to penetrate the board so that an evaluation of the patient's spinal injury can be made without removing the patient from the board. To accommodate theses specifications, backboards are usually made of plastic or wood. Backboards may also need to be buoyant to aid in water rescues.
A long spine board is used when a medical professional feels a patient has suffered trauma to the back or spinal column. Signs that a back board is required include pain in the back or neck, loss of feeling in the limbs, or when a person is unconscious and cannot convey to the medical professional the possibility of damage to the spine. The amount of time a patient spends on a spinal board should be minimized. These back restraints will occasionally add to the patient's pain and discomfort, cause respiratory difficulties and bedsores.
The basic steps for using a spinal board are to check the patient's vital signs and assess the use of his limbs. A cervical collar is then applied to stabilize the neck and head. The board is then positioned alongside the patient. With the help of additional rescue personnel, stationed at the injured person's head, feet and waist, the patient is rolled away from the board and the backboard is slid under the patient.
Starting with the trunk of the body, the straps are used to immobilize and secure the patient to the spinal board. The legs are cinched to the board after the torso is immobilized. Using foam padding, placed on either side of the head, the top of the body is fastened to the board.
After a spinal board has been used, it needs to be sterilized and prepared for the next emergency. The board needs to be cleaned with an antibacterial solution or wipes. Straps need to be wiped or soaked in an antibacterial solution. Some boards are also occasionally waxed to aid in the positioning of the patient on the board.
By: photoBeard

A spinal board is used to stabilize the spine.

By: corepics

Padding near the head and neck helps to immobilize patients on a spinal board.

By: forestpath

X-rays need to be able to penetrate a spinal board.