What is a Smoothie Blender?
A smoothie blender is a small kitchen appliance specifically designed to make smoothies, a thick beverage usually made from blended ingredients that might include fruit, fruit juice, yogurt, ice cream and ice. Smoothie blenders often come with a range of speeds and beating actions, which allows for different textures of the drink. The canisters of the appliances have spouts for pouring without removing the lid. Some smoothie blenders come with stirring sticks, and some higher-end models have the capability of keeping drinks cold.
Smoothie blenders are designed with strong wattages to effectively crush ice and fruit. Wattages typically range from 500 to 1200 watts depending on the model. The higher the wattage and power of the smoothie blender, the smoother the beverage becomes.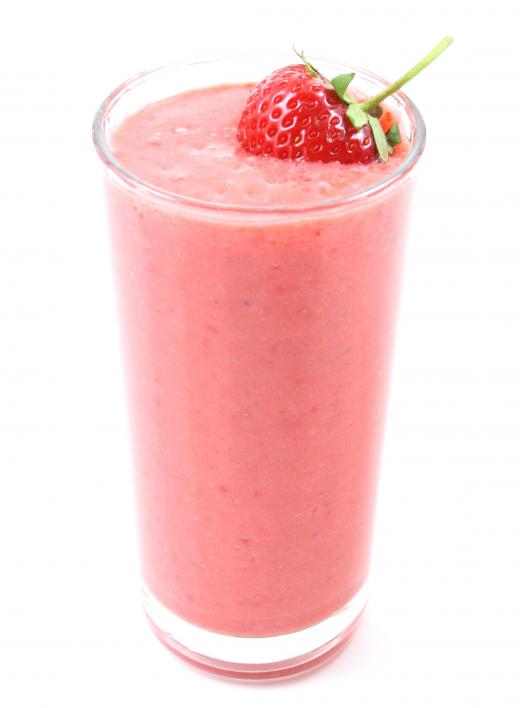 Smoothie blenders for home use come in a variety of sizes. There are blenders that produce multiple servings all the way to single-serving versions that allow people to detach the canisters and take their drinks with them. Commercial establishments use ultra-high capacity versions.
Prices vary for smoothie blenders. Personal blenders range from $20 US Dollars into the hundreds of US Dollars. Professional blenders range into the thousands of US Dollars. Smoothie blenders is made by a variety of companies in different styles. Reviews and discussions about the merits and disadvantages of various smoothie blenders can be found at several websites by searching for "smoothie blenders" or similar terms.
A couple of important things to consider when purchasing a smoothie blender are its ease of use and how easy it is to clean. Larger capacity blenders are a good choice if making smoothies for several people will be common. A smaller version might suffice for individuals.
Standard, multi-purpose blenders are used to make smoothies as well. A good blender that has an ice crushing function might be just as effective at making the concoction as a smoothie blender. Alternatively, smoothie blenders can also be used to blend other frozen drinks, such as cappuccinos or daiquiris.
Smoothie recipes sometimes are provided with smoothie blenders. This cold and refreshing drink is often made with ice cream or yogurt, fruit, juice and other ingredients. Recipes also can be found online, and there are even entire books dedicated to this popular refreshment. Popular smoothie recipes often contain ingredients such as plain yogurt, orange juice, bananas and strawberries or other berries. Other versions include vegetables, and some include protein powder and other supplements for increased nutrition.
Some people enjoy smoothies as an occasional refreshment. Other people drink smoothies daily as part of their diet. Smoothies are popular in detoxification and weight loss programs as healthful and nutritious drinks.
AS FEATURED ON:
AS FEATURED ON:

By: matka_Wariatka

A strawberry smoothie.

By: Elenathewise

Berries for making smoothies.

By: Colinda McKie

Yogurt is often blended in a smoothie.

By: Anyka

Smoothies are created using a variety of fruits, juices, and ice.

By: tashka2000

Spinach can be used to make healthy, green smoothies.

By: rgbdigital.co.uk

People who enjoy shakes, smoothies, and other frozen-type drinks may consider investing in a smoothie maker.

By: lculig

Protein powder can be mixed into a smoothie with a smoothie blender.

By: Johan Larson

Some green smoothies feature kale and other nutrient-rich green vegetables.