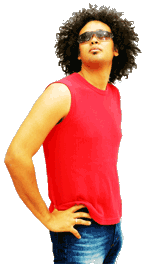 Sling chairs are casual chairs that are usually constructed using a simple frame paired with a single sheet of material for the back and seat. With a classic sling chair, the material of choice is usually canvas. While the original designs were intended for outdoor use, the sling chair is now often used as a fun and quirky indoor seating solution.
A traditional sling chair design will include a wooden frame that is more or less in the form of the English letter "X." Strong canvas is used to create a rectangular sheet of material that can be attached to the top area of the back, as well as the front area of the seat frame. When fully assembled, the sling chair provides sturdy seating that is lightweight while still capable of supporting a large adult.
Over the years, variations on the basic sling chair have appeared. Some designs call for the use of metal frames rather than the traditional wood. There are even heavy-duty plastic frames used today with some designs for the sling patio chair. Others are dressier, and can be incorporated into decorating schemes for dens, family rooms, and even bedrooms.
Sling outdoor chairs designed for easy transportation on camping trips often make use of a frame that can be folded, allowing several chairs to be stacked in a relatively small amount of space. While canvas is still the preferred material of choice for the back and seat, other heavy-duty blends of natural and synthetic fibers are sometimes used. Today, it is possible to purchase "green" sling chairs that are constructed entirely of recycled materials, an option that has attracted a great deal of attention among people who are environmentally conscious.
Along with designs that incorporate different materials, the sling chair is not just for one person any longer. Several suppliers offer oversized sling chairs that are capable of supporting two people with ease. Sometimes referred to as a love or romance sling chair, these chairs for two can be used as extra seating when entertaining inside, or as additional seating for a pool party or other outdoor gathering. Most designs of the oversized chair include a frame that folds with ease, making it very easy to store the chair when not in use.
Purchasing a sling back chair is relatively simple. Many lawn and garden shops will feature a couple of designs as part of their patio furniture offerings. Many furniture stores that specialize in casual furnishings will have one or two designs suitable for use in the home. Even some sports and camping stores will offer at least one folding sling chair design. The chairs are also available at a number of online retail outlets, with options for different colors and patterns on the canvas sling ranging from basic black to wildly colored prints.
Man with hands on his hips