A sirloin steak is a serving of beef cut from the loin section of a cow. The loin, or strip loin as it's also called, is along the same area of a cow that contains the tenderloin, but is closer to the rump. The tenderloin is the most tender beef — especially the tip of it from which the ultra-tender filet mignon steak is cut. Sirloin steaks aren't as tender as tenderloin steaks, but they are popular, less expensive and may be marinated before being pan-fried, barbecued or oven-broiled to add flavor and tenderness. Top sirloin is different from sirloin steak as it's boneless, while sirloin steak is lower on the rump and always contains part of a hip bone.
The types of sirloin steak depend on the hip bone's shape they contain. The wedge bone sirloin is nearest to the rump and is the least tender, while the pin bone sirloin steak is farthest from the rump or butt and is the most tender, although it's also quite bony. Top sirloin steaks aren't necessarily better or worse than sirloin steaks in terms of tenderness or flavor although some people may have a preference. Both types of sirloin steak are best cooked rare or medium-rare and a 6 ounce (170 g) steak has about 450 calories and around 1 ounce (28.3 g) of fat.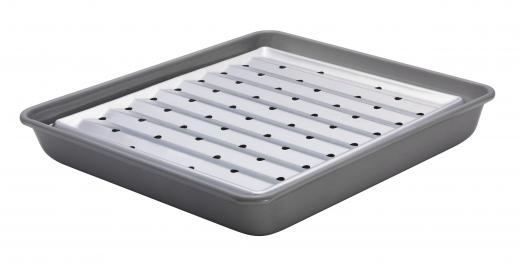 Marinating sirloin steaks or applying a seasoned rub to them before cooking can help add tenderness and flavor. Soy sauce and lime juice can make a marinade base for sirloin and various seasonings can be added such as pepper, garlic powder and tarragon. A seasoned rub can consist of onion and garlic powder plus pepper, thyme and lemon or lime juice to form a paste to rub into the meat. Once prepared, sirloin steaks may be fried in a pan on the stove, grilled on a barbecue or placed on a broiler pan to be broiled in the oven. Sirloin steak may also be cut into cubes and cooked in a stir-fry dish with vegetables.
Stuffed sirloin steak recipes call for the meat to be sliced in the middle, but not all the way through, to form a pocket. The pocket is stuffed with minced garlic and onions before being held closed with toothpicks. Wooden picks should be dampened before the stuffed sirloin steaks are placed in an oven as the heated toothpicks may create smoke and set off the smoke alarm.
AS FEATURED ON:
AS FEATURED ON:

By: rimglow

Many people like to cook sirloin steaks on a broiler pan so that they stay tender.

By: GraphicCompressor

Sirloin steaks can be rubbed with seasoning and grilled.

By: Brent Hofacker

Sirloin is less expensive than tenderloin.

By: phasinphoto

Garlic may be featured in sirloin steak marinade.