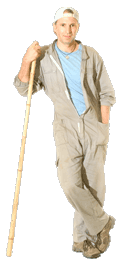 A sinkhole is a hole or opening in the earth's surface that forms due to water erosion below the surface. Sinkholes are typically found in regions that consist of minerals that are easily eroded by flowing water, and water erosion is the most common cause of sinkholes. This can be due to natural water flows or human-created water flows due to poorly made sewer systems, broken underground pipelines, or diversion of natural water to new areas. A sinkhole typically takes a fairly long time to form, however this formation is often unnoticeable from the surface, making the appearance of a sinkhole seem sudden and unexpected.
Sinkholes are typically formed due to erosion of bedrock in an area due to water flowing or moving beneath the ground's surface. Certain types of rock are most easily eroded by the circulation of water, including limestone, carbonate rocks, and salt beds found beneath the surface. A sinkhole can be just about any size from a small hole only about one foot (about 30 cm) in diameter, to massive craters more than 60 feet (more than 18 m) in both width and depth.
Salt beds can be especially troublesome in areas of high saltwater concentration, where subterranean salt beds have had a chance to form over a long period. As water levels fall or recede, these salt beds are then open to erosion from water currents and may be completely unseen from the surface. This type of sinkhole can sometimes form in oceans, called a blue hole, and extend to great depths. Limestone and other carbonate rocks are also fairly easily eroded by the motion of water around and through them, making sinkholes in areas with high concentrations of these rocks more likely.
Sinkholes often form naturally, due to the movements of ground water below the surface, but they can form due to human intervention as well. This can often be caused by broken pipelines beneath the ground. Such pipes usually leak water and this water can eat away at carbonate rock in an area, leading to a much larger problem than a leaking pipe.
Water diverted from one area to another can also cause a sinkhole. This can be due to the water moving beneath the ground in a new area or due to the water being drained away. In some areas, the water is actually providing important pressure beneath the surface and keeping the ground stable. Once the water is drained away, the ground is weakened and prone to collapse and the formation of a sinkhole.
Worker