A Shark Shield is an electronic device which is meant to deter sharks from surfers, divers, boaters, and swimmers. The device is manufactured for consumers by SeaChange, an Australian company, and sold through a variety of distributors around the world. The Shark Shield carries a hefty price tag, so it is not for everyone, but some people feel that the safety advantages of the device justify the cost. Dive and surf supply shops may carry the device or be able to order it, and it can also be purchased through online retailers.
Early versions of the Shark Shield were developed in South Africa, a region of the world with notoriously shark-infested waters. Researchers there took advantage of the electrical sensitivity of sharks, creating a device which generates an electrical field that makes sharks feel uncomfortable, causing them to swim away. When sharks enter the field created by a Shark Shield, they experience involuntary muscle spasms which are supposed to encourage the shark to find a snack elsewhere.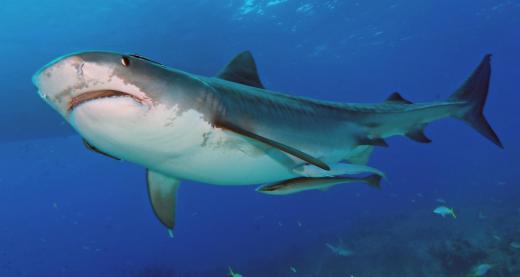 To use a Shark Shield, someone can either wear the device or attach it to a surfboard, boat, or set of diving gear. The Shark Shield is turned on when entering the water and left on throughout the session in the water, and turned off upon exiting. According to SeaChange, users should not notice the electrical field unless they come into direct contact with the electrodes, and the device comes with a user's guide which needs to be followed carefully for best results.
Sharks are naturally curious animals, and in field testing, researchers have observed that when sharks sense the electrical field created by the Shark Shield, they often swim closer to investigate. This can lead to the idea that the Shark Shield actually attracts sharks; however, when the sharks cross the barrier of the field, their curiosity is typically satisfied, and they leave the area.
Like any product which is designed to repel sharks, the Shark Shield does not come with a guarantee. It has certainly been shown to be effective in many tests, and users often report satisfaction with it, but malfunctions do arise with electronic items, and sharks are not always predictable, so a particularly determined or stubborn shark could still attack someone wearing the device. It is also important to remember that the Shark Shield does not protect people from other dangers, like storm surge and other curious sea creatures.
AS FEATURED ON:
AS FEATURED ON:

By: Christopher Bartlett

The Shark Shield's electrical field makes sharks swim away.