A salt rinse may be used in the mouth, throat, or nasal passages for a number of different purposes. It can help to reduce inflammation, keep an area clean, and reduce pain. A salt rinse is a simple mixture of warm water and non-iodized salt that is run through the nasal passages, swished around in the mouth, and/or gargled in the throat to treat soreness. It is an alternative therapy that has been used in various cultures around the world for many years, but is still recommended by doctors today to treat numerous conditions including sinus infections or to keep the mouth clean following oral surgery.
Using a salt rinse for the nasal and sinus passages is a daily hygiene practice for some people. It may be performed using a nasal bulb syringe or a tool known as a neti pot, which is shaped similarly to a gravy boat, with a round bowl and a narrow spout on one side. The salt and warm water mixture is prepared in the neti pot, and the spout is then inserted into one side of the nose. The warm salt water runs through one nasal passage and out the other side, cleansing the nasal passages of allergens, dirt, and nasal secretions.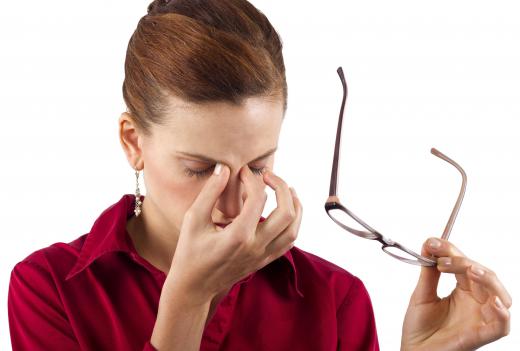 Many people find that using a nasal salt rinse in this manner helps to treat and prevent sinus issues. It may even boost the immune system and help to prevent colds or respiratory infections. In addition to nasal salt rinses, many people use them regularly for the mouth and throat as well. Gargling with warm salt water, for instance, is an excellent way to relieve the pain of a sore throat. Just be sure to go to the doctor if the sore throat lasts more than a few days, because antibiotics may be required.
A salt rinse is also frequently recommended by dentists to reduce gum inflammation, or to relieve pain and heal canker sores. Following oral surgery, a salt rinse is often recommended as well, because patients may not be able to brush the teeth or cleans the area after surgery without doing damage. This helps to prevent infection, and may even speed the healing process; some doctors even recommend that patients use the warm salt rinse two or three times per day. It is important to always use lukewarm water and non-iodized salt when preparing these rinses, to ensure a pain free experience.


By: Vladyslav Siaber

A bulb syringe, which can be used to do a salt rinse.

By: Orlando Bellini

A salt rinse ingredients are simply salt and warm water.

By: Innovated Captures

A salt rinse may help individuals who struggle with chronic sinus problems.

By: staras

Gargling with warm salt water is an excellent way to relieve the pain of a sore throat.

By: MediablitzImages

Salt water rinses are often used by people with mouth or dental injuries.