What is a Salt Glow? (with pictures)
A salt glow is a spa treatment meant to smooth skin through exfoliation. Done at spas or at home, salt glows use coarse grains of mineral or sea salt to scrub away dead skin. A salt glow treatment can be done on its own for fast results, or as part of a battery of treatments meant to improve skin.
Salt-based body scrubs can use a variety of ingredients to enhance the treatment. In addition to the exfoliating salt, many formulas contain essential oils to help apply the mixture smoothly, as well as to add fragrance and prevent the over-drying of skin through exfoliation. Lavender, eucalyptus, and citrus are all common additives found in salt glow treatments.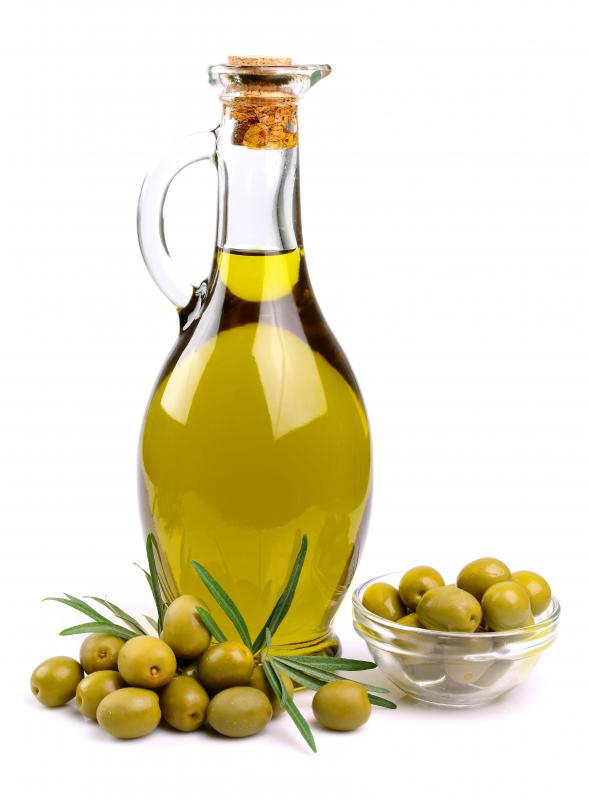 In a spa setting, a client will typically wear a swimsuit or be nude to receive salt scrub treatments. A spa technician rubs the mixture onto exposed areas of the body, scrubbing gently to slough away dead skin. Some spa treatment facilities include a shower system mounted onto the table that allows the scrub to be washed away while the client relaxes. In other spas, clients may be directed to a shower and asked to rinse off after the treatment is completed. It is important not to use soap or shower gel when rinsing off a salt glow, as this will wash away the oil residues that are intended to improve the skin's look, feel, and moisture level.
To create an at-home salt scrub experience, look no further than the pantry. Mix about 4 ounces (115 grams) of table salt with a few heaping spoonfuls of honey and extra virgin olive oil. Rub this mixture into the skin and allow it to sit for a few minutes before rinsing off. Honey and olive oil have been used in beauty treatments for thousands of years, while the lack of additives, preservatives, or artificial ingredients may lower the risk of allergic reactions.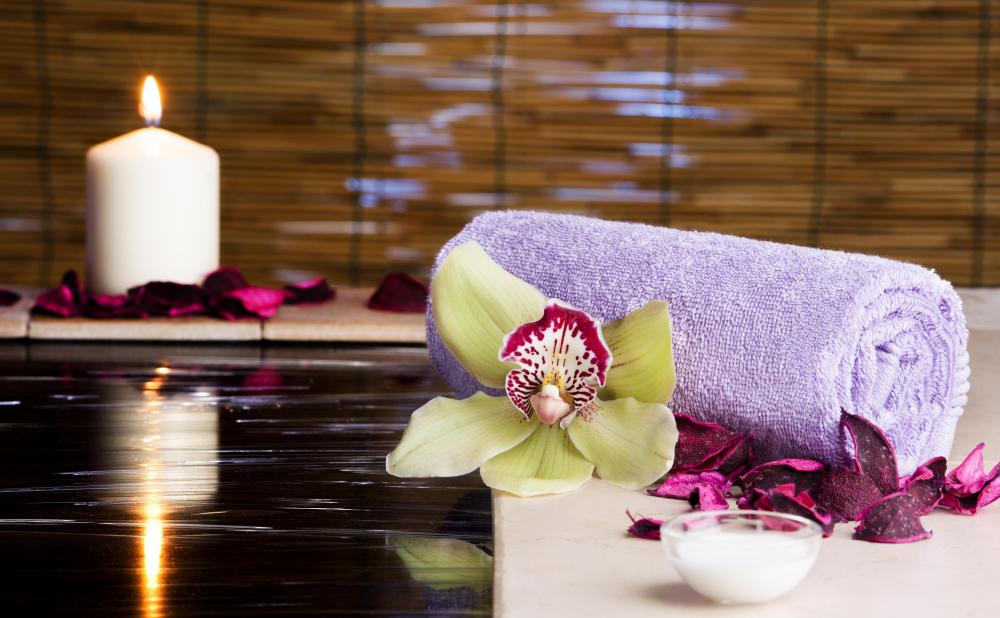 Many experts recommend that shaving or waxing be avoided before undergoing a salt glow, as the coarse grains of salt may irritate sensitive skin. Be certain to rub in the mixture firmly but gently, and be sure to inform a spa technician if the treatment hurts or itches. If a salt scrub is being given as part of a set of treatments, it will likely be followed by an application of moisturizer, massage oil, or body butter. When doing a salt scrub at home, consider rubbing a gentle moisturizer on after rinsing the salt off.
Salt.

Olive oil, when combined with salt and used in a beauty routine, can greatly improve skin's appearance.

Many sea salt scrubs for the face and body contain only sea salt and essential oils such as lavender.

Some day spas offer salt-based scrubs and other exfoliating treatments.

Some salt-based scrubs are made with honey, an age-old beauty treatment.

Salt glow is a treatment that's meant to make skin smooth.