In many homes, kitchen space is at a premium, so homeowners and interior designers may recommend pot racks to save counter and cabinet space.
A pot rack is, essentially, a hanger for pots and pans. They can be made of wood, brass, chrome, copper or wrought iron, and come in a variety of designs, shapes and sizes. A pot rack is usually mounted from the ceiling or against a wall, and within these parameters, a homeowner can usually choose a design that will be attractive and efficient.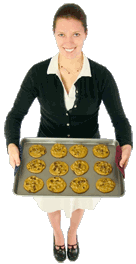 A pot rack has been an indispensable item in professional kitchens for many years, since they offer efficiency and ease of storage. Pots and pans may be scratched or warped by being stored on top of eachother; a pot rack eliminates this risk, since the utensils hang in their own space, by their own handles.
A pot rack, in its most basic form, will usually consist of some kind of rack with hooks or pegs attached to it. The pots are then placed on the hooks for storage. However, a pot rack may also feature a grid or other shelving unit attached to it, allowing a cook to place large pots, like Dutch ovens, on the rack; such pot racks can also be used for other kitchen utensils, or even as space for a household plant.
A pot rack may be mounted against the wall in smaller kitchens, or can hang from the ceiling over an island in a larger one. The main benefit is that they keep a cook's pots and pans easily accessible. The cook no longer has to rummage through a dark cabinet, or in the stove drawer, looking for a particular item. A pot rack even come with a light mounted on it, which may help illumine a dark kitchen.
A homeowner should always keep in mind that mounting a pot rack correctly is an essential part of the installation process. The racks may be heavy themselves, and the pots will add weight as well. So, the homeowner should make sure that wherever a pot rack is installed, that the wall or ceiling will be able to support the weight. If there is some question, the homeowner may want to contact a home building store for instructions and information about installing a pot rack correctly and safely.
A pot rack comes in as many prices ranges as designs. A smaller, wall mounted pot rack may cost as little as $50, whereas a larger, ceiling-mounted design can run as high as $1,000. It all depends on the construction materials, features and design. A homeowner can purchase pot racks at home interior stores, kitchen stores, in catalogs and online. A wise homeowner will consider several designs and price ranges in order to decide which one best meets his needs.
AS FEATURED ON:
AS FEATURED ON:

Woman baking cookies