What Is a Plumber License?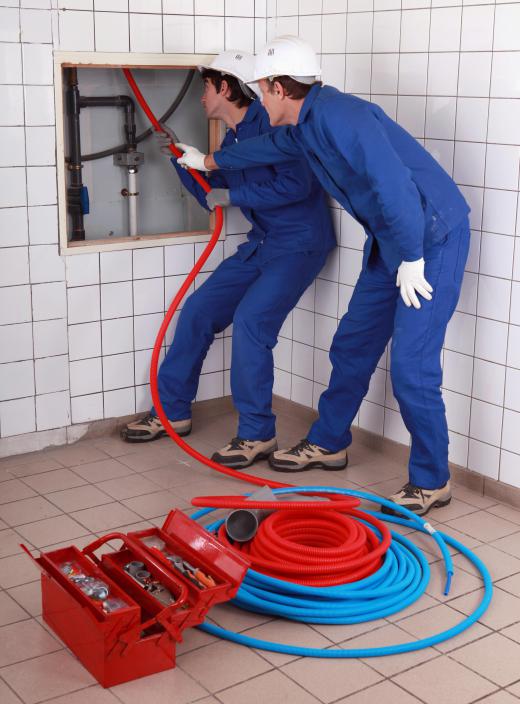 A plumber license is official permission, or license, from a government agency that permits an individual to practice the plumbing trade. As plumbing is an important component of a building's structure and functionality, it is important that those who work as plumbers be competent to practice their jobs. Licensing requirements for plumbers tend to vary by jurisdiction, with many areas, particularly in the United States, requiring someone to hold a license prior to working on plumbing systems or representing himself to the public as a plumber. Some governments issue different types of licenses depending on a plumber's expertise and competencies, and this type of plumber license may define the type of work that a plumber can do.
Licensing various types of trades is quite common in many countries, particularly if the government can show that doing so protects the public interest. As malfunctioning plumbing can present a significant health and safety hazard to both the occupants of a dwelling as well as the community at large, many places require that anyone working in the area of plumbing earn a plumber license. The process for earning the plumber license can vary significantly by jurisdiction. In the United States, for example, qualifying for plumber licensing is typically a matter of complying with state or even municipal laws and regulations. Some of the more advanced types of plumber licenses, such as a master plumber designation, may be obtained only after the individual has worked as a plumber for many years.
One useful aspect of any type of trade licensing is that it provides a system of professional regulation for people in a particular profession or trade. The body that issues a plumber license can, for example, suspend or limit that license if a license holder demonstrates competency or directly violates either the law or the established code of professional ethics for plumbers. In many cases, the licensing body will have a grievance committee or a system by which the general public can file a complaint against a plumber so that situations that involve incompetency or fraud can be addressed.
The qualifications to obtain a plumber license in the United States typically involve the completion of an apprenticeship program that also includes participation in a formal program of study. These programs may be developed by local unions that work to match apprentice plumbers with master plumbers for training. In addition to actually working with the plumber, the apprentices will take classes through a local trade school or community college. After the apprentice has completed his apprenticeship, he then may be eligible to take the licensing exam and apply for his license.


By: auremar

An apprenticeship period is one step in becoming a licensed plumber.

By: sima

A plumber may be responsible for installing water fixtures.

By: auremar

Plumbers who are not yet fully licensed may work under the supervision of a more experienced, licensed plumber.