What is a Plumber Apprenticeship?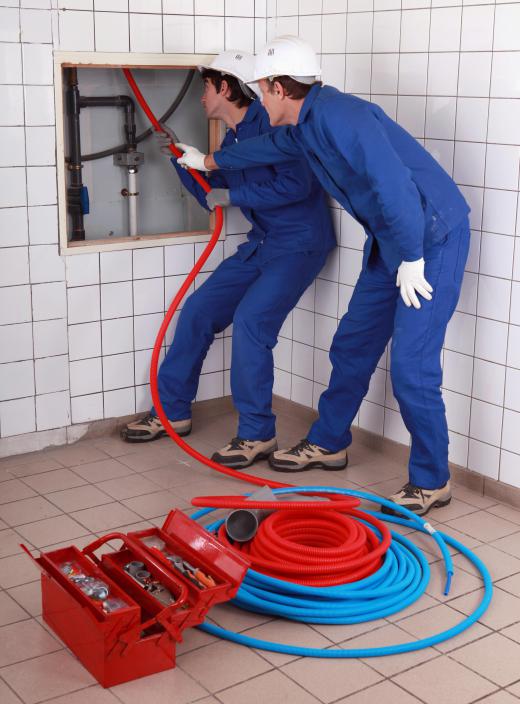 Most people who wish to become a plumber initially take on a plumber apprenticeship. A plumber apprenticeship is a combination of structured instruction and on-the-job training working closely with an experienced, licensed plumber. It consists of an education including all aspects of plumbing service, including skills needed, expectations, and the daily tasks involved with a plumber job.
Contractors typically employ apprentices for a specified term. The candidate works under the supervision and guidance of an experienced master plumber or journeyman. During a plumber apprenticeship, an aspiring plumber can expect to receive a wage, as well as benefits in some circumstances. Following the successful completion of both the apprenticeship and the state licensing exam, the student will earn a Journeyman Plumber's license.
To begin a plumber apprenticeship, a candidate must usually be at least 18 years of age. He or she should have a high school diploma or its equivalent, and may have to pass an aptitude test before apprenticeship selection. The potential plumber should also be prepared to embark on a four to five year study, including over 100 hours of classroom instruction as well as hands-on plumbing work.
A plumber apprenticeship teaches the basic set of skills that a plumber must have. These skills include the installation of various appliances, plumbing fixtures, waste systems, natural gas piping, water treatment equipment, and supply systems. Plumbers are also schooled in repairing, testing, and maintaining all of this equipment.
During the course of study, a plumber apprentice may be instructed in science, technology, and other subjects. He or she may learn to read blue prints. Various types of math and chemistry will be learned, as well as the nuts and bolts of plumbing, including location specific codes and regulations. Other subjects may include applied physics, drafting, and Occupational Safety and Health Administration (OSHA) safety training.
Apprentice plumbers will also learn proper care and use for various plumbing tools and materials. Safety techniques will be highlighted, specifically involving scaffolding, ladders, and other potential safety hazards. Following the work, the student may also earn up to 30 hours of college credit.
Once the journeyman plumber has completed an additional 100 hours in advanced plumbing instruction, he or she can take an exam to become a master plumber. This position has many more benefits to the journeyman position, including an increased wage. After reaching the master plumber level, a plumber can also open his or her own plumbing company.


By: auremar

Periods in which plumbers who are still learning the trade serve as apprentices are mandated in most parts of the world.

By: sima

Plumber apprentices learn local building codes during the period of their apprenticeships.

By: auremar

An apprenticeship offers hands-on experience under the tutelage of a more seasoned professional.