Although the painful injury known as a pizza burn can be caused by other hot foods, many people associate it with a piping hot pizza served straight out of the oven. An overly enthusiastic diner places a slice in his or her mouth, and the bubbling cheese or tomato sauce instantly sears the roof of his or her mouth. The resulting lesion and occasional dangling flap of skin is officially called a pizza burn.
A pizza burn is generally caused by foods which retain a significant amount of heat, such as melted cheeses, sauces, gravies and deep-fried items. A commercial pizza oven can often reach temperatures of 800 degrees Fahrenheit or higher. This means several minutes can elapse before the cheese and other ingredients cool down sufficiently for safe consumption. If those searing hot ingredients should touch the roof of a diner's mouth, serious damage can occur in seconds. The hot food may continue to stick to the extremely thin tissue covering the palate area.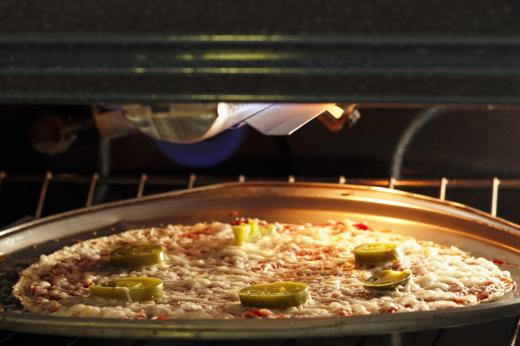 The burned tissue may pull away from the roof of the victim's mouth, leaving a flap of damaged skin dangling. Mouth lesions may also form, which often resemble second degree burn blisters. The injured area could remain very sensitive and tender for at least a week to ten days following the initial pizza burn. The burned area also becomes more prone to opportunistic infections, so a visit to a dentist could be in order if the pizza burn is severe.
There are other foods which can cause pizza burn, either because of their heat-retaining ingredients or the nature of their preparation. Any hot dish featuring a layer of melted cheese should be consumed carefully, and only after enough time has elapsed to render it safe. Hot beverages such as tea and coffee can also cause scalds to the upper palate area if consumed too quickly. Deep-fried foods such as breaded mushrooms or jalapeno poppers can also retain heat and steam, so they should be eaten with caution. Foods prepared in microwave ovens may also have unseen hot spots capable of causing serious pizza burns.
The best first aid for pizza burns is an immediate application of ice, followed by a week of careful eating and salt water rinses.
AS FEATURED ON:
AS FEATURED ON:

By: Serenethos

A pizza in an oven.

By: Kayros Studio

Taking a bite of hot pizza can burn the skin in the mouth, causing it to shed.

By: Stephen Coburn

Hot, fresh pizza can cause burns on the roof of the mouth.

By: Orlando Bellini

Salt water rinses can help treat a pizza burn.

By: Gray wall studio

Pizza burns may require an immediate application of ice.