A picket fence is a fence made with upright stakes, or pickets, connected with horizontal supports. This type of fence tends to be short, and is designed as an ornamental boundary, rather than one which creates privacy or serves as a barrier for animals. There are numerous incarnations of the picket fence, depending on personal taste, although the classic picket fence is made from pointed stakes of an even height and painted white. A picket fence also usually encloses a lavishly planted garden.
This style of fence design is closely associated with the United States, although picket fences are built in other nations as well. Within America, the picket fence is associated with suburbia, since suburban homes are often built on large lots which require fencing. In an urban environment, the fence would have to be more solid to create a sense of privacy and minimize crime, while rural areas have sturdy, utilitarian fencing designed to keep animals in or out. Some people have negative associations with the picket fence because of its link with suburbia. Many Americans also think of Mark Twain when they see a picket fence, due a memorable scene in The Adventures of Huckleberry Finn.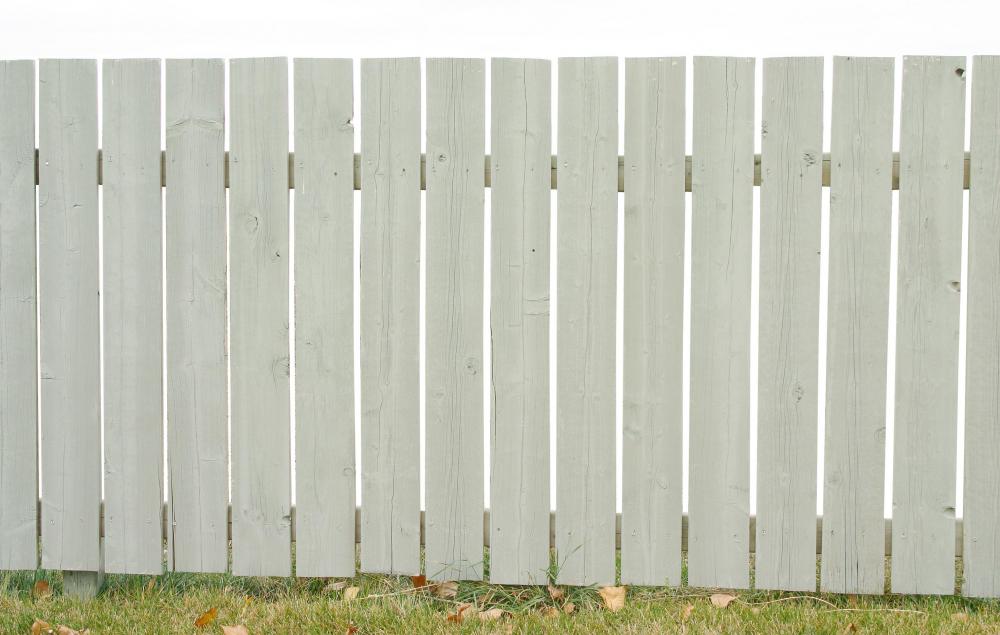 A typical picket fence is made from wooden pickets, although pickets can also be made from plastics. The wood can be left plain or painted, depending on taste, and the pickets may be highly ornamental, with stylized carved designs, or very simple. Depending on the design of the fence, the top of the fenceline may be even all the way across, or it may dip, creating a scalloped design which softens the look of the fence. A picket fence also usually includes a matching gate with a latch to keep it closed when not in use.
A homeowner can erect a picket fence by hand with individual pickets, or use pre-milled fence sections, which are much easier to install. Using pre-made fencing ensures that the fence will be even and sturdily constructed, for people who are not as skilled at construction projects as others. The fence still has to be securely mounted in the ground so that it will not fall over, and plants and weeds should be kept clear of the fence so that it does not start to rot. For people with painted picket fences, keeping plants clear also makes the fence easier to paint, when it requires a fresh coat of color.
Picket fencing is popular with suburban housing.

By: pb3131

A picket fence is usually designed as an ornamental boundary rather than something that creates privacy.

By: Johanna Goodyear

Some pickets are fairly simple in design.