What Is a Personal Trainer Waiver?
A personal trainer waiver is a form that a personal trainer must give to prospective clients to fill out and sign as a protection against any potential liabilities from the training program. The main reason why a personal trainer waiver is important is because personal training carries with it some inherent risks and dangers, which may result in some of form of inadvertent injury to the trainee. In anticipation of the possibility of such an occurrence, the personal trainer must obtain the consent of the trainee or client to begin the training program.
Most personal trainers will not train anyone without obtaining a personal trainer waiver — not even close friends and family. In highly litigious societies, this is not only prudent but required by insurance companies as part of the contract between a personal trainer and any type of client. That is not to say that personal training programs are dangerous since most personal trainers are professionals who design training programs to fit the client. Even though most clients are required to fill out their medical histories as part of the contract, some clients may have some hidden conditions that could put them at a risk during the training process.
For instance, a client might have an undetected congenital heart defect that may increase the risk of getting a heart attack. In a situation like this, the client may suffer a heart attack by the exertions brought on by the training process. The personal trainer waiver would protect the personal trainer from any liability that might flow from such a situation. Other instances of injury may be attributed to accidents that could occur during the personal training process. Such injuries include accidents like slips and falls.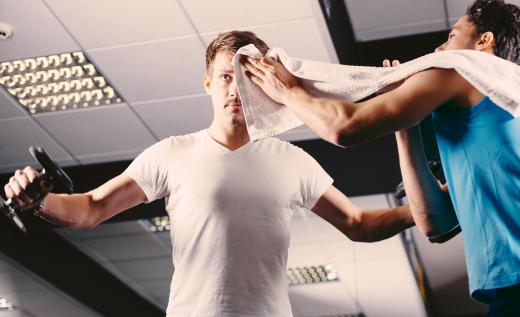 Basically, the personal trainer waiver contains several sections that the client must read and agree to before the training can commence. One of the sections usually contains an explanation of the dangers associated with the personal training process, which requires the client to show in writing that he or she has been informed of the possible dangers but still consents to the personal training. Another section allows the client to state that he or she is participating in the personal training program by free will. Other sections contain an agreement by the client to release the trainer from any liability due to the training program and a personal assumption of the risk associated with the training. The client must also sign and date the personal trainer waiver.
AS FEATURED ON:
AS FEATURED ON:

By: Dana Heinemann

Personal trainers might lead workouts at resorts.

By: berc

Personal trainers have their clients sign waivers to provide protection against liabilities from training.

By: Monkey Business

Most personal training programs are not dangerous, as they are designed for the client, but a waiver is still required just in case of an accident.

By: taramara78

Most personal trainers will not train anyone without first obtaining a personal trainer waiver.