A personal chef, also commonly called a private chef, is a trained professional who cooks for an individual or household. She may specialize in a specific type of cuisine or be proficient in preparing a wide range of dishes in a myriad of categories. Her work environment can range from a traditional home kitchen to the galley of a yacht or food preparation area of a private plane. A significant number of personal chefs work alone. Some are part of a household staff that works in unison to shop for food, prepare dishes and serve meals.
When the concept of a personal chef was initially introduced, it was a position generally found only in the most elite households. As more families experienced both parents working outside the home, personal chef jobs became more mainstream in the middle class. In the latter situation, personal chefs often visit the homes once every week or so to prepare many dishes that can be frozen and reheated as needed by various family members.
A significant number of personal chefs work for several employers at the same time. A chef may cook only breakfasts for one client, concentrate on dinners for another and be on-call for special occasion cooking for someone else. Some are full-time employees that live in the home of their employers. A percentage work at restaurants and supplement their incomes with occasional stints as personal chefs.
While a personal chef may be given free rein to cook dishes of her choice, she is often hired based on her area of culinary specialty. A client frequently requests a chef who specializes in cooking for diabetics or is renowned for her vegetarian or vegan creations. Chefs who specialize in particular ethnic or regional cooking are often recruited to prepare meals in private homes.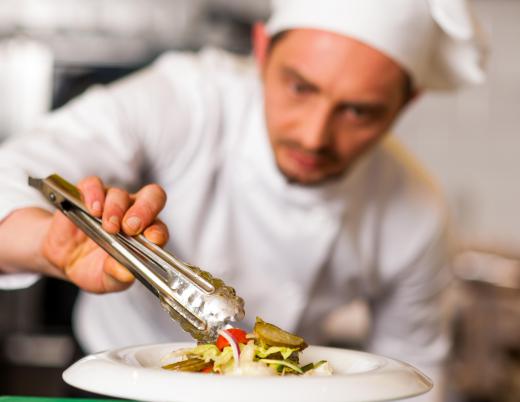 Before a personal chef is hired, she and the prospective client normally meet to discuss the details of the job. Employers commonly have food budget restrictions or want to know if the chef has sufficient skills to cook low-salt or low-fat meals that are full-flavored and pleasing to the palate. The chef normally asks for a tour of the client's kitchen prior to accepting a job to determine if it is equipped with the appliances and cookware she needs to adequately perform her job.
The ability to easily interact with people of different ages and personalities is important to flourish as a personal chef. Working in people's homes frequently exposes a private chef to personal situations that require discretion and patience. Attention to detail is important, as are good organizational abilities, to efficiently and simultaneously work for several clients.
Formal education is not generally required for this position. A personal chef is commonly hired based on recommendations from past or present customers. However, many private chefs, as well as commercial chefs, have had formal training at culinary institutes or cooking schools. Such training may also give an aspiring chef an edge over other applicants.
AS FEATURED ON:
AS FEATURED ON:

By: B. and E. Dudzinscy

Personal chefs prepare meals in individual households.

By: Silvano Rebai

A personal chef usually supplies their own cooking utensils.

By: stockyimages

Many personal chefs work for more than one client at a time.