What is a Pediatric Intensivist?
A pediatric intensivist is a medical doctor who specializes in caring for adolescents, children, and infants who have serious illnesses or injuries. Most intensivists work in critical care centers at hospitals to diagnose and treat emergency conditions. Some pediatric intensivists work exclusively with patients with very particular conditions, such as asthma attacks or head injuries. Most physicians, however, provide expert care for young people with all types of life-threatening disorders.
When a patient is admitted into a critical care center, a pediatric intensivist makes a diagnosis by obtaining information about symptoms and conducting a physical examination. He or she may order diagnostic imaging tests to examine injuries or collect blood and tissue samples for laboratory analysis of diseases. With the aid of nurses and hospital technicians, pediatric intensivists ensure young patients are constantly monitored and kept as comfortable as possible while treatment decisions are being made.
After confirming a diagnosis, a pediatric intensivist can administer the appropriate treatment. The intensivist may need to administer intravenous fluids and medications or place a child on a ventilator to stabilize breathing. Depending on the urgency of a patient's condition, the doctor might decide to monitor the effects of medications over a few hours or arrange for immediate surgical procedures.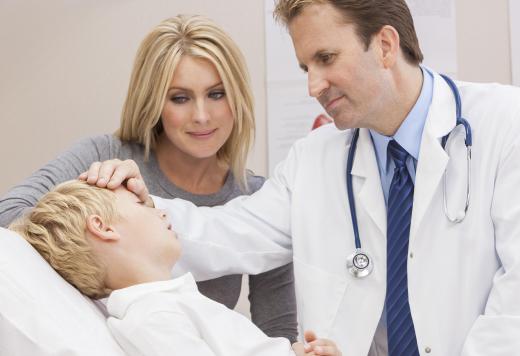 Treating life-threatening conditions in young people is often very different than caring for adults with similar conditions, as diseases and injuries affect developing body systems in unique ways. A young child's immune system, for example, is typically less effective at fighting off relatively common bacteria and viruses. The same pathogen that causes an adult to experience a simple cold can cause a child to have serious breathing, cardiac, and neurological complications. Pediatric intensivists receive extensive training in order to recognize and accurately treat health problems in young patients.
A person who wants to become a pediatric intensivist usually needs to complete four years of medical school, participate in a three-year pediatric care residency, and enter a two- to three- year pediatric critical care fellowship. During residency and fellowship training, a new doctor has the opportunity to work directly with patients under the supervision of established pediatricians. He or she learns how to keep patient records, identify different conditions, and administer treatment. In addition, a doctor is required to pass certification exams upon completion of both the residency and the fellowship to gain licensure in his or her specialty.
Many pediatric intensivists conduct independent research when not treating patients. They review literature on different diseases and conditions, and compose original papers based on their own clinical and experimental findings. It is important for a pediatric intensivist to stay up-to-date on the latest innovations in medical technology and treatment techniques to ensure his or her patients receive the best possible care.
AS FEATURED ON:
AS FEATURED ON:

By: WavebreakMediaMicro

Pediatric intensivist receive extensive training in order to accurately treat health problems in young patients.

By: Darren Baker

Some pediatric intensivists will work exclusively with certain conditions, but all are capable of providing care for young people with all types of life-threatening diseases.

By: kasto

Pediatric intensivists may order laboratory testing to confirm a diagnosis.

By: Andres Rodriguez

A doctor seeking to become an intensivist may specialize in pulmonology and treat conditions of the lung.

By: sepy

During residency and fellowship training, aspiring pediatric intensivists are given the opportunity to work under the supervision of established pediatricians.