What Is a Peach Cocktail?
A peach cocktail is any cocktail that includes peach as one of its major flavors. This may involve the use of peach puree, peach liquors, or even slices of peaches. Many different cocktails make use of this flavor, but a few popular examples include the Bellini, blue peach, and royal peach cocktails. In addition to these, there are also peach versions of many classic drinks, including peach martinis and margaritas. Any drink in which the peach flavor is discernible can be thought of as a peach cocktail, but some cocktails focus specifically on bringing out the peach flavor.
One of the most popular peach cocktails is the Bellini. This cocktail is made by mixing peach puree with sparkling wine and is considered a classic so it is known in many bars. Unlike many other peach cocktails, this drink originated in Italy and is not a gimmick or twist on a classic recipe. Many fancy restaurants serve this peach cocktail, but it is rare for bars that mainly sell beer and wine to carry the ingredients needed for this drink.
There are many different types of peach cocktail involving peach-flavored alcohol. These include peach vodka, peach schnapps, and other liquors that leech peaches in neutral alcohol to create peach-flavored alcohol. This type of liquor can be mixed with sodas or other alcohols to preserve the flavor of the peaches in the drink. Peach alcohol can be mixed with a large number of other flavors to create alcoholic fruit punches. It is common for peach flavored liquors to use real peaches, but some are artificially flavored.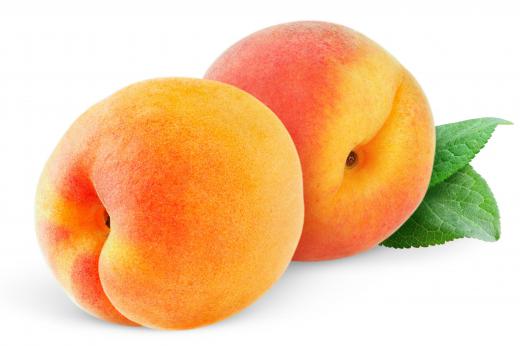 A peach cocktail involving peach liquor that is served in many bars involves mixing peach liquor with whiskey. Peach vodka with plain soda or juice is also popular. It can be difficult to match this type of liquor elegantly with other alcohols, but one common combination during the summer months in many bars involves sweet tea and peach flavored liquors mixed together. It is also possible to put peach liquor in non-alcoholic sweet tea for a less intense alcoholic experience, but this often works best with syrupy alcohols.
The use of peach as a flavor in alcoholic beverages is even more prevalent areas where peaches grow. In these areas, there are often local specialties involving peach juice and alcohol, or even peaches steeped in wine. The flesh of the peach itself may even become part of the cocktail in some cases, either floating in the drink or sitting on the rim. Potential uses for peach in cocktails are nearly limitless, and one may find it enjoyable to invent a unique peach cocktail on one's own.
AS FEATURED ON:
AS FEATURED ON:

By: travis manley

Vodka, which can be used to make a peach cocktail.

By: Anna Kucherova

Peaches.

By: Rob Stark

A bottle of champagne, which can be used to make a Bellini.

By: dondesigns

Some martinis are made with peach vodka.

By: Kesu

In summer months, peach cocktails are popular in sweet tea.

By: Gresei

Many bars mix peach liquor with whiskey to make a cocktail.