What is a Pay As You Go SIM Card?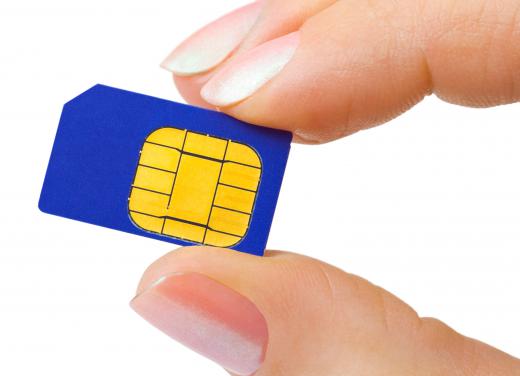 A SIM (subscriber identification module) card is an innovative way to deliver service to cellular and wireless phones. Instead of the phone storing all information, the SIM card stores things like phone number and identification, and can be switched between compatible phones as needed. Many people who have phones with this feature have regular monthly cellphone contracts, but there is a growing market for the pay as you go SIM card too.
Like any prepaid plan, the pay as you go SIM card allows people to purchase minutes in advance of use, and simply add minutes as needed. Many prefer to not use contracts because of fees for overuse, and because they may have to stick with the same phone plan for at least a year. In Europe especially, prepaid tends to be more popular than contracted service. There is certainly a market for prepaid plans in other parts of the world too.
The typical prepaid plan may not employ a SIM card but phones that use them can be convenient for a variety of reasons. First, many people with prepaid plans pay roaming fees if they exit their geographical area, and particularly when they travel in other countries. Instead of paying exorbitant fees by using the same local phone number, travelers can purchase a SIM card for the country in which they will travel. This tends to greatly reduce costs. If minutes run low, many countries sell additional minutes that can be easily added by entering a special code into the phone, and many plans offer the purchase of minutes online too.
Moreover, since people switch cards in order to gain access to service, making calls in a foreign country doesn't add charges to any other cellphone plans, prepaid or contract. The pay as you go SIM card, once installed in a phone, is the only card charged. Some cards of this nature are country specific, and others are international, allowing people to use the SIM card from and in numerous countries. Rate per minute charge varies greatly, and calls from a foreign country to home are usually much more expensive than local calls. These cards are usually best purchased in a home country because people will then have a phone number before they travel, and in certain countries, obtaining a cellphone may have residency requirements or taxes that travelers will want to avoid.
It isn't necessary to use a pay as you go SIM card just for travel. Many prefer them for local use. Advantages in ease of adding minutes when needed, in avoiding contracts, and in switching from one phone to another without losing a cellphone number or vital calling information are cited as principal reasons to use a prepaid plan with a SIM card. For those who use cellphones frequently, pay as you go plans tend to be more expensive, and many are better off with flat fee or contract plans instead. In circumstances where the phone is primarily use for brief calls, or when traveling, the prepaid SIM card may be a viable option. Anyone considering it though, should make sure to have a phone that works with SIM cards or be prepared to purchase one.


By: Nikolai Sorokin

SIM card.

By: Iaroslav Neliubov

Some sim cards are packaged inside of a larger card in order to protect them from damage before use.

By: Maridav

Pay as you go SIM cards may be ideal for international travelers.

By: HappyAlex

Some international travelers find it convenient to buy an unlocked cell phone that can be used with various SIM cards.