What is a Non-Surgical Facelift?
For those looking for an alternative to invasive plastic surgery, a non-surgical facelift might be a great solution. There are different techniques for non-surgical face lifting, most of which are better suited for younger people who are just beginning to show signs of aging. Some new methods are now targeting people in their 40s and 50s, especially those experiencing sagging skin and deeper wrinkles.
A non-surgical facelift has several advantages. For one, it is cheaper than surgery. While a traditional facelift can cost upwards of 10,000 US dollars (USD), a non-surgical one can cost as little as 2,000 USD. Another important advantage of choosing a non-surgical option is the shorter recovery period and lower risk of post-operatory infections and complications.
There are many options for people considering a non-surgical facelift. The newest and most popular method is called Thermage. Thermage is performed with a machine that heats the upper layer of the skin through radio waves. This action accelerates cellular repair and leads to firmer skin. Thermage requires no anesthesia, and patients can go home the day of the procedure.
Another popular type of non-surgical facelift is microcurrent therapy (MT), which uses electricity to speed up the production of collagen. MT improves blood circulation and stimulates the facial muscles, acting like a workout for the skin. This is the preferred method for people looking to lift sagging skin or reduce a double chin.
Doctors consider ThreadLift a type of non-surgical face lifting procedure, even though a needle is used. Thin, tiny pieces of thread are inserted under skin tissues to lift the brows and sagging skin in the face and neck. ThreadLift leaves no scars and has no downtime for patients.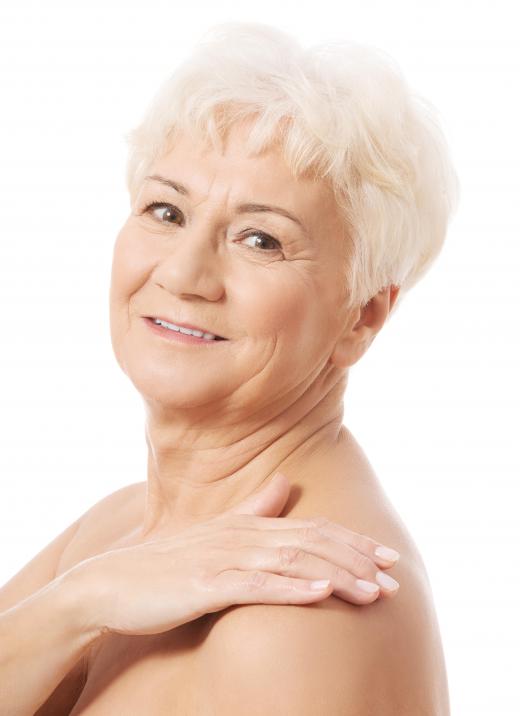 For people looking for a more affordable solution, some face masks available in the market can produce a temporary effect of tightness and lifting. This includes creams and masks containing acetycholine, a natural chemical that transmits nerve impulses to the muscles. Most anti-wrinkle creams also help to reduce fine lines with frequent and steady use. If you're considering a non-surgical facelift, consult a dermatologist first. A professional will be able to evaluate your skin and recommend the best available treatment.
AS FEATURED ON:
AS FEATURED ON:

By: Alila

A diagram of younger and older skin showing the decrease in collagen in older skin. Various techniques can be used to help boost collagen production and make the skin smoother.

By: michaeljung

A dermatologist can recommend the appropriate dermal treatment for deep wrinkles.

By: Piotr Marcinski

Most anti-wrinkle creams can help to reduce fine lines with frequent use.

By: Picture-Factory

Some face masks may temporarily tighten and lift facial skin.

By: Edyta Pawlowska

If you're considering a non-surgical facelift, consult a dermatologist first.

By: Alliance

Anti-aging creams that contain collagen may not be effective in preventing wrinkled skin.