What Is a Nail File Drill?
A nail file drill is an instrument used for filing down and shaping prosthetic or natural toenails or fingernails. One can find these handheld drills in nail salons, as nail care professionals commonly use them. Although these small drills are available for anyone to purchase, it is best to let a licensed nail technician operate the tools. Since they are electric, they have the ability to quickly shape and file nails, but they can be dangerous and cause nails problems if one is not properly trained to use them.
There are several types of nail files. A salon technician uses a professional nail file drill to file down and shape her client's acrylic nails. The reason for an electric drill is that a manual hand file is not fast enough or strong enough to file down acrylic nails; artificial nails tend to be very tough, so a fast-powered drill works best. The drills one can find in a regular retail store are not as powerful as the ones found in professional nail salons, but they work faster than manual nail files.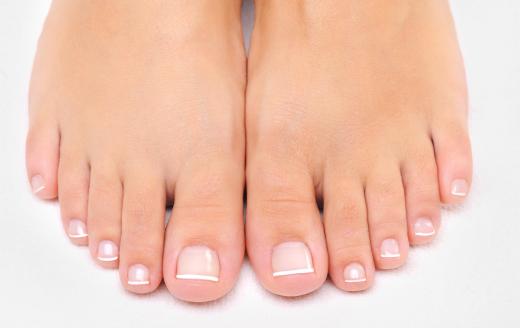 An electric nail file drill is small and handheld. It is usually slightly bigger than a pen in order to fit into a small hand easily. Some nail file drills are powered through cables that connect into power outlets. Other drills use batteries and require no cables. When a drill is powered on, the eraser-shaped file at the end of the drill rotates quickly. It is similar to a sanding tool.
Sometimes, a nail professional will use an electric drill on natural nails if they are very long or thick. Since drills tend to thin out natural nails quickly, care must be taken to avoid sanding the nail bed too far. When this occurs, the nail can break easily or the drilling can result in pain. Drills are sometimes used on natural nails to remove the top, shiny layer on the nail right before applying artificial nails. When natural nails are drilled down slightly, acrylic nails tend to adhere better and longer.
It is common to have one's natural nails filed for silk wraps, gel nails, acrylics, and other UV nail types. A nail drill is also used to shape the artificial nail after it has been applied. Acrylic nails and gel nails usually need shaping and smoothing with a nail file drill. Without this procedure, the nails will look misshapen and too thick on the fingers.
AS FEATURED ON:
AS FEATURED ON:

By: Valua Vitaly

A nail file drill is used to shape fingernails and toenails.

By: sakura

A nail file drill is used to smooth down the nail to the correct shape prior to painting it.

By: Photographee.eu

Nail file drills can be used to smooth the fingernails during a manicure.

By: Darren Baker

A nail file drill may help treat toenail thickness.