What is a Muffin Top Pan?
A muffin top pan is a shallow, six or twelve cupped muffin pan designed for baking the top portion of a traditional muffin without the bottom part, or stump. This works because the cups in the pan are much shallower than those in traditional muffin pans. Many people prefer the muffin tops to the stumps because of the crispy, browned surface that forms as the batter rises up over the edge of the muffin cups.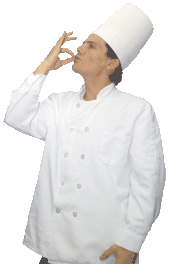 The bottoms, or stumps, of the muffin are much softer and crumb-like in texture than the crunchy muffin tops. The stumps lack the golden-brown crunch that the top gets. Some people even throw away the stumps and eat only the tops, so the muffin top pan helps prevent waste.
Muffin tops are also more convenient to eat since the stump part usually has a muffin paper on it. Plus it's pretty much impossible to eat both the top and bottom parts at the same time unless the muffin is quite small or you bite it in the middle as if it were a whole apple. To add a spread such as butter or jam to a whole conventional muffin without just putting it on top in a mess, the paper has to be removed, then the muffin has to be cut with a knife lengthwise down the center.
A muffin top pan, however, can produce a muffin top that you can eat just as you would a piece of toast — by putting spread on one side and holding it around the edges. Of course, you could do the same thing with a regular muffin by removing the top, but you'd have to butter the stump separately from the top and it doesn't taste the same. This is probably why many people end up throwing the stumps away!
A muffin top pan may be made of non-stick material, stainless steel or aluminum. Some types are dishwasher safe and the non-stick types of muffin pans are usually easy to wipe clean. You can add chopped nuts and/or a mixture of oats, butter and brown sugar to muffin tops before baking to give them even more flavor and golden-browned appeal. Other uses for a muffin top pan include baking large cookies or small buns, or rolls.