What is a Motion to Suppress Evidence?
A motion to suppress evidence is a legal tool that attorneys and parties to a litigation can use to stop certain information from being presented or even discussed during a criminal or civil trial. It's most commonly used in the context of the U.S. legal system, but many different countries have something similar. In most places this sort of request is a written filing that outlines two primary things: first, a concise statement of the evidence that should be excluded, and second, a reason why. There usually has to be some legal reason why the information should be left out of the official record. Improper evidence collection, like if the information only came to the police or the prosecutors through an illegal search, is a common example; evidence that was collected in such a way as to violate a person's protected right to privacy is another. When one of these sorts of motions is granted, the information is not presented during trial, not included in the official record of the case, and cannot be considered by the judge or jury when rendering a judgment.
How It's Requested
Each jurisdiction typically has its own specific filing procedure for this sort of motion, but in general it's a paper document that must be formally submitted to the court within a certain window of time after the case has been officially opened. It must describe the challenged evidence completely and in detail, and must also set out specific reasons why that evidence shouldn't be allowed in. These reasons usually have to be grounded in the law; simply claiming that they're harmful, redundant, or irrelevant isn't typically enough. It's common to cite other cases that have granted motions for similar reasons or on similar grounds, though this isn't often required.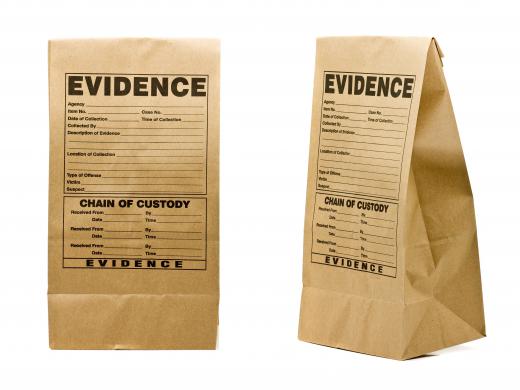 Once the court receives the motion, the judge will typically set up a hearing to discuss it. Both sides are usually invited to make comments about why the evidence should or should not be considered. This is often a really important chance for the parties to elaborate on the ideas set out in the motion.
Consequences for Trial
When a motion to suppress evidence is granted, neither the judge nor the jury can make a decision about the case based on the suppressed evidence. It's removed from the record and isn't introduced or presented at trial at all. Sometimes this simply weakens a case, but depending on what the evidence was it can also more or less destroy it. For example, if a person is being charged with possession of illegal drugs but the drugs themselves are the evidence that's been excluded, there isn't really much to go on at trial. In these instances the case is usually dismissed.
Reasons and Legal Bases
Whether a motion to suppress evidence will be granted depends a lot on the strength of the legal reasoning behind the request. Most of the time, there needs to be some procedural problem with how the evidence was collected or the circumstances surrounding that collection. Claims that the evidence is harmful or "unfair," while potentially true, aren't usually enough. At least in the United States, the two biggest reasons material is excluded are related to privacy violations, and usually arise in the context of illegal searches and seizures and improper collection methodology.
Illegal Searches
In the United States, the legal system weighs each person's constitutional right to privacy against the public interest in prosecuting crimes and enforcing public laws. Various rules and constitutional rights are in place to protect citizens' privacy and to prevent unlawful investigations. If a law enforcement organization violates one of these privacy laws and rules, evidence is considered to be improperly collected. When evidence is improperly obtained, such as through an illegal search, the party can file a motion to suppress it.
The Fourth Amendment, which protects against unreasonable search and seizure, is often the basis for these sorts of claims. This Amendment holds that a person and his property cannot be searched without reasonable cause. A warrant is generally required, unless illegal items are in plain sight or the police or law enforcement personnel actually witness a crime being committed.
Improper Communication
The Fifth Amendment is also designed to protect a person's privacy. It guarantees a person the right to remain silent and the right to avoid self incrimination. Under a Supreme Court case called Miranda v. Arizona, the police must inform a suspected criminal of this right — as well as of his right to an attorney — before questioning. If this procedure isn't followed, any verbal evidence can be excluded or suppressed. This is perhaps most significant when it comes to confessions and other statements that are directly incriminating.
In most instances, any additional evidence that police recover as the direct result of an illegal search or illegal questioning is also inadmissible, even if there isn't anything technically wrong with the procedures or methodology used. This evidence is considered "fruit of the poison tree." For example, if the police recover a gun only because the criminal told them where the gun was during the course of an illegally obtained confession, the gun is also improperly obtained evidence and can be suppressed.
AS FEATURED ON:
AS FEATURED ON:

By: apops

If a motion to suppress evidence is granted, a judge cannot use the evidence to make a decision about a case.

By: Shawn Hempel

Evidence cannot be presented during a trial if a motion to supress is granted.

By: oocoskun

A motion to suppress evidence may be requested in a criminal case if evidence was obtained through an illegal search.

By: donserhio

A motion to suppress evidence may be sought in court by an attorney if evidence was recovered by police as the result of illegal questioning.

By: TeX HeX

In the US, the Fourth Amendment, part of the Bill of Rights, guards against unreasonable searches and seizures.