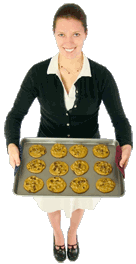 A mobile pantry, or movable pantry, is a portable kitchen storage unit. These types of pantries are typically used to store food, linens, tableware, or kitchen equipment. Some also feature a top space that can be used as an open shelf or kitchen workspace.
Mobile pantries often resemble an open or single-backed bookshelf with narrower shelves. Most of these pantries have wheels to aid in their mobility. A mobile pantry is ideal in a small kitchen or in spaces where extra storage is needed. They are considered space-saving devices that allow their users to move them anywhere needed while still maintaining the functionality of a standard, stationary pantry closet or room.
The narrow shelves and tall height of many mobile pantries are designed to allow the device to fit into tight spaces. They are often used between other large kitchen appliances, such as dishwashers or refrigerators, and counter tops. Most portable pantries are made of wood. They can also be created from many other materials, such as metal or plastic. Depending on the type of mobile pantry selected, painting or otherwise decorating it to fit with a kitchen's theme is often possible.
When purchasing a mobile pantry, consumers should keep in mind that assembly is typically required. Extra shipping charges also often apply, since pantries are often large and heavy, so it may be beneficial to buy it from a "brick and mortar" store if possible. Many mobile pantries feature convenient handles on their sides to help cooks easily move them. It is also possible to build one's own mobile pantry.
Building a mobile pantry is a simple woodworking project that can be completed in a weekend. To build this pantry, plywood, screws, a drill, rolling wheels, a skill saw, a tape measure, and a carpenter's square would be required. The builder should acquire the dimensions of the project with the tape measure, and then measure out the plywood needed. After cutting the pieces out of the plywood, they can be drilled together in the pattern desired.
Once the pantry is assembled, it should be sanded to prevent injuries. Wood plugs or stick-on coverings can be added to cover up screw heads if desired. The pantry may be painted or stained to the builder's liking. Adding the wheels to the bottom of the mobile pantry completes the project.
Pantries with wheels are not limited to kitchen use. These storage units can be helpful in maximizing storage space in other small areas, such as college dormitories, garages, or small offices. Pantries with widely-spaced shelves can also be used as laundry caddies. Teachers may also find many uses for mobile pantries within the classroom.
Woman baking cookies