What is a Medical Marijuana License?
A medical marijuana license is a form of legal documentation that allows anyone with proper medical papers to purchase and use medicinal marijuana. Medical cannabis, or marijuana, is not legal in every country. Limited use of medicinal marijuana is legal in Canada, Austria, Germany, the Netherlands, Spain, Finland, Israel, and Portugal. Some states within the United States allow the legal purchase of medicinal marijuana.
Each aforementioned country's government plays a large part in the growth, purchase, and distribution of medicinal marijuana. Regardless of particular laws surrounding legal cannabis usage, almost all countries require citizens to obtain a medical marijuana license prior to purchase or use of the plant.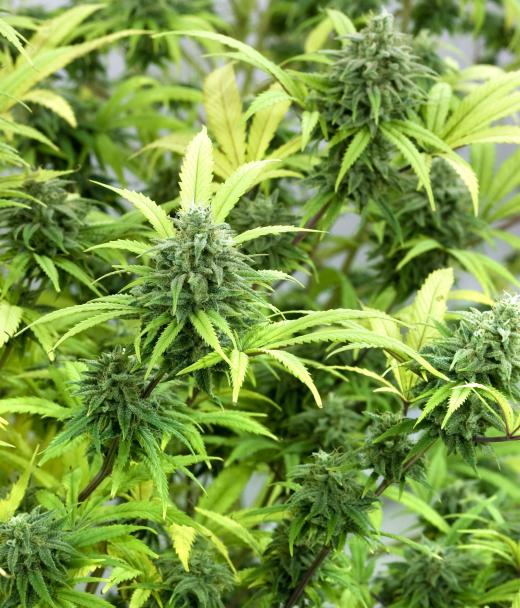 To gain a medical marijuana license, one must be ill in some manner. Therefore, each person who wishes to obtain a license must speak with a medical doctor prior to purchasing marijuana from a legal seller. There are many different ailments that may qualify for a medical marijuana license. Both mental and physical illnesses can result in the distribution of a license according to government regulations.
Studies have shown that marijuana can ease many illness-related symptoms caused by Alzheimer's, diabetes, attention deficit disorder, asthma, depression, skin tumors, sleep apnea, breast cancer, HIV/AIDS, and many other ailments. People who are facing end-stage diseases are also often granted a legal license.
There are many different methods available for using medicinal cannabis. Taking capsules, smoking, drinking, and eating marijuana are all ways that patients can reap the benefits of this drug. While smoking marijuana is the preferred method by many patients, there is some controversy surrounding this type of consumption.
Many doctors and scientists argue that smoking anything is not beneficial. This theory is based upon the fact that cigarettes often cause lung cancer due to smoke inhalation amongst other things. Also, some argue that smoking any kind of drug is not an effective way to distribute a drug evenly throughout the body, since smoke cannot be controlled.
Contrastingly, there are many people around the globe that are pushing for the legalization of medicinal marijuana. These proponents of medical cannabis base their arguments upon numerous studies that show the positive effects of this drug. Still, the world is largely split over the legalization of marijuana.
If you happen to live in a country or state that allows the legal consumption of medicinal marijuana, you must speak with a recognized medical doctor prior to obtaining a medical marijuana license. Once an license has been issued, you can only purchase this drug from legal government distribution centers.
AS FEATURED ON:
AS FEATURED ON:

By: Boyan Dimitrov

Marijuana plants.

By: Wrangler

Critics of medical marijuana say that it often falls into the hands of recreational users.

By: janifest

In the United States, some states allow people with legitimate health issues to obtain a license to legally purchase medical marijuana.

By: Photographee.eu

Some medical professionals believe that it's dangerous not only to smoke cigarettes but also any substance.

By: chuugo

Medical marijuana may help treat the symptoms associated with Alzheimer's disease.

By: inesbazdar

Medical marijuana may be used to treat sleep disorders, as well as symptoms such as nighttime headaches.

By: Ilike

Studies have shown that marijuana can ease symptoms caused by asthma.