What is a Maternity Girdle?
A maternity girdle is an undergarment worn for support during pregnancy. Unlike a traditional girdle that is meant to tighten the body under clothing, a maternity girdle is designed to alleviate aches and pain in the lower back of a pregnant woman. It provides lumbar support as the belly grows and weight shifts. In addition, it will lift the stomach, allowing for the weight of the baby to be held more evenly.
Maternity girdles are typically fashioned after regular underpants, although they extend from underneath the stomach to just below the breasts. They may also come in longer sizes, where the bottom portion of the underpants reaches down to the thigh. Available in a wide array of fabrics and styles, maternity girdles can be purchased in cotton, spandex, nylon, or Lycra®. It is important that a woman have a maternity girdle properly fitted to allow for maximum support.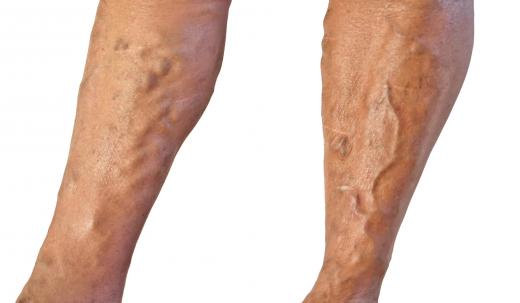 One of the most common complaints for pregnant women is the strain that occurs in the lower back. While lumbar support is a big factor in choosing a maternity girdle, there are other discomforts of pregnancy that can be alleviated. Leg cramps, hemorrhoids, and varicose veins can all be resulting effects of the body's inability to regulate circulation. Most maternity girdles are made up of lightweight, elastic materials. This allows for support without restriction, improving circulation.
In addition to maternity girdles, there are numerous other support undergarments for pregnancy. A first-time mom may find the different choices overwhelming, and it is often a good idea to speak to a physician about the various options involved, depending on health issues and the size and growth rate of the baby. Maternity belts and post-partum girdles are two other bands used for support.
Maternity belts differ from girdles in that they are smaller and fit directly under the belly. They are the size of a wide belt, with one side stretching out to support the back. Also known as belly belts, they provide direct support to the weight of the growing stomach, which helps to support the fetus. Some physicians subscribe belly belts for women in late-term pregnancy because they believe the belt helps to take weight off the cervix.
A post-partum girdle has two functions. It is similar in appearance to a maternity girdle, and is worn for several weeks after pregnancy to aid in the healing process. Benefits include alleviated back pain associated with the post-natal period, as well as added support for carrying an infant. Women also wear this type of girdle to regain their figure more quickly. It is said to help compress the uterus and reposition the internal organs that were shifted during pregnancy and childbirth.
AS FEATURED ON:
AS FEATURED ON:

By: roblan

Expectant mothers are more prone to develop varicose veins.

By: inarik

Maternity girdles can make pregnant women who wouldn't have otherwise felt attractive feel beautiful.

By: doble.d

A pregnant woman may be able to alleviate lower back pain by using a maternity girdle.