A master budget is a document which is designed to be used to set budgeting plans. These documents can apply to individual months or to longer periods of time, such as a six month period or a year. They are used for financial planning by everyone from individuals to major corporations and they can be very useful tools for managing budgeting and financial situations.
In order to develop a master budget, it is usually necessary to have several pieces of supporting documentation. An income statement showing income brought in over a given period of time, such as a month, is important. A master budget often uses a balance sheet which maps out income and expenses. It can also integrate operating budgets, in a situation where a master budget is being planned for a large business or company. In these cases, individual departments may have their own budgeting needs which they use to develop an operating budget and these budgets can be pulled together in this document.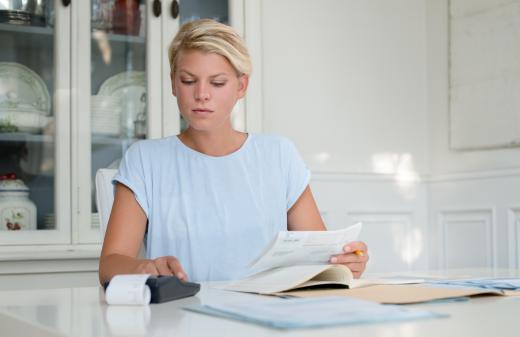 Expenses and projected income are considered when developing a master budget. These documents can also be used to map out things like setting funds aside in savings or investments. In addition to considering routine monthly expenses, the budget also accounts for expenses which come up less often, such as annual or biannual bills. The budget is used to determine how much should be set aside each month to meet these obligations.
The master budget maps out budget targets and can in turn be used to identify areas of a business or home's operations which need to be adjusted in order to bring them in line with the budget. For example, a company may determine that it needs to increase sales by a given percentage to meet expenses, or that a budget request by one department can only be met by cutting another department or slowing the rate of expansion to free up capital. Likewise, a household budget may reveal expenses which can be trimmed away or redirected; for example, the master budget may be used to illustrate that a debt could be paid down more quickly by rearranging how money is spent.
Many software programs designed for accounting are capable of generating reports such as balance sheets along with helping users develop budgets. In the case of a large company integrating operating budgets from diverse departments, creating a master budget may be a time consuming process because it can require waiting on reports and statements from all the departments of the company.


By: Picture-Factory

A master budget is a document that sets a budget plan.

By: Andy Dean

There are numerous budget management spreadsheets and other resources that can be downloaded for free.

By: diego cervo

Master budgets typically outline income and expected expenses.

By: WavebreakMediaMicro

An unexpected pregnancy might negatively affect a master budget.