What Is a Magazine Advertising Agency?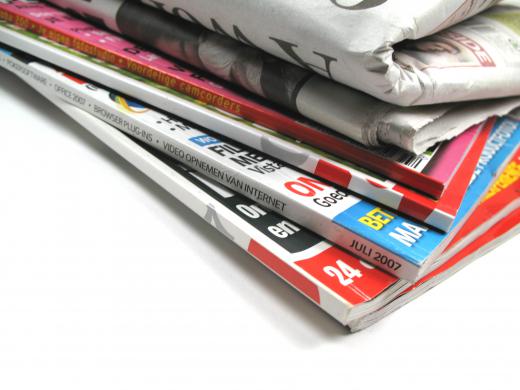 The term "magazine advertising agency" may be a misnomer, as few ad agencies focus exclusively on magazine ads. Instead, a magazine advertising agency might be a company that can create and place ads in a variety of media, including magazines, newspapers, television, radio, and the Internet. The agency will work with a business owner or individual who needs to spread the word about a particular product or promotion by creating an effective ad that will appeal to a target audience. In many cases, several ads will be created rather than just one to ensure target audiences are sufficiently reached.
New businesses as well as established businesses launching new products may hire the services of a magazine advertising agency. While it may be easy to simply throw together an ad and send it to a magazine for placement, it is far more difficult to create an effective ad that will reach the target audience and give that audience the information it needs. A magazine advertising agency will work with the business owner to assemble the most relevant information about the product or business, as well as information about the intended audience. The agency can also do research into various magazines to find the ones that will be most appropriate for the ads. Placing an ad in the wrong magazine can mean the target audience does not see the ad and the business owner wastes valuable time and money.
It is likely that the magazine advertising agency will also explore other media options for advertising. Internet advertising has become increasingly popular because of the much larger readership and ease with which ads can be created and placed. The downside to Internet advertising, however, is the difficulty of reaching a specific audience rather than a massive group of people who may or may not be interested in the product or service being offered by the business. A magazine advertising agency will usually be able to do the research to find the most appropriate online advertising outlets as well.
Sometimes the agency will offer an advertising package that includes placement in magazines, newspapers, the Internet, billboards, or any combination of these. Such packages are usually useful for larger businesses as well as small businesses looking to attract several target audiences. This approach is usually known as an ad campaign, and it may involve several other advertising approaches the agency deems useful for that particular product or business.


By: mark huls

Magazines generate the majority of their revenue from advertising.

By: David

A billboard ad can be a part of an advertising package.