In business, maintaining a edge against the competition can lead to some difficult decisions. One of those decisions is a wholesale reduction in the company's workforce, euphemistically described as a layoff. In the original sense of the term, a layoff was considered a temporary, if at times indefinite, furlough for workers as demand for the company's product declined or there was a substantial surplus. In modern times, a layoff is often equated with the equally euphemistic term downsizing or termination. Few employees ever return to work following a modern layoff.
A layoff can occur for a number of reasons. Sometimes a company discovers it can still meet production demands with a smaller workforce. If fewer workers are needed to produce a product of identical quality, the company saves money on labor costs. The company may decide to keep its most productive or experienced workers on the job and lay off the rest of the workforce. This form of layoff is more common in businesses where profit margins are especially thin and any reduction in labor costs means a better chance at survival in the marketplace.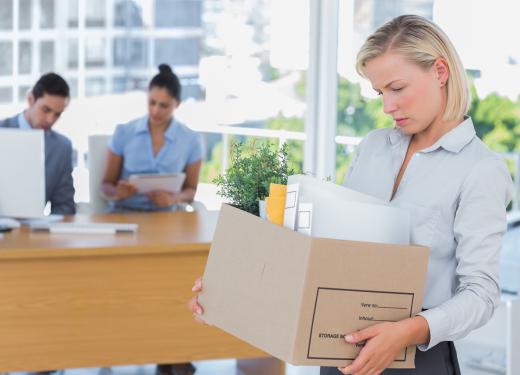 Some workers are hired on a seasonal basis to meet demand, but often face a general layoff after the busy season is over. The company may retain a skeleton crew during the slower periods and rehire seasonal workers as needed, but it is not unusual for companies to hire new crews every year on a temporary basis. Temporary workforces are not generally eligible for the same unemployment benefits as regular workers who have been officially laid off.
Workers who have been dismissed through a general layoff can usually qualify for unemployment compensation, because their jobs were terminated for reasons out of their control. Even though companies must pay into these unemployment funds after a general layoff, not having these workers on the company payroll still represents a significant savings in labor costs. Laid-off workers are free to pursue other employment opportunities, and the company is no longer obligated to provide other benefits such as health insurance, vacation pay or performance bonuses.
A layoff could be defined as a temporary idling of a specific production line, or it could be seen as a more permanent downsizing effort across all departments. Sometimes a layoff in one department has a ripple effect on other departments as demand for a product slumps or the company shifts work to another part of the world. A layoff in an automotive stamping plant, for example, could reduce the need for parts manufactured by another supplier. As the need for supplies decreases, other companies may have to lay off the workers who produce those parts. One general layoff in one influential industry can create a domino effect on all the other industries which depend on its continued success.
AS FEATURED ON:
AS FEATURED ON:

By: WavebreakmediaMicro

Employees are sometimes laid off when a company's revenue declines sharply.

By: BlueSkyImages

People who find themselves suddenly laid off might struggle to find new work.

By: Brad Wynnyk

A layoff may take the form of a permanent downsizing across all departments in a company.

By: Sachs500

Some jobs are seasonal, so workers know ahead of time when they will be laid off.

By: Marzky Ragsac Jr.

Layoffs may occur when a company is forced to reduce the amount of employees on the company's payroll.