United States
Fact Checked
What is a Joint Resolution?
A joint resolution is a form of legislation used by the United States Congress to approve a legal action. It is essentially the same as a bill since it acts as proposed legislation. A joint resolution, however, is slightly different in that it generally deals with the establishment of government activities rather than changes to the US Code. Both a bill and a joint resolution require passage by the House of Representatives and the Senate. Usually this form of legislation is proposed by members from both houses at the same time.
Legally, a joint resolution is voted on by both houses. Once debate on the issues ends and a vote takes place, the House and Senate must pass the measure by a majority. This is then sent to the President for signature or veto, otherwise it must remain unsigned for 10 days to become law. If a veto takes place, it is returned to Congress and new debate occurs or an attempt at overriding the veto is undertaken. In order to override the Presidential veto, both houses of Congress must pass the bill again with a two-thirds majority.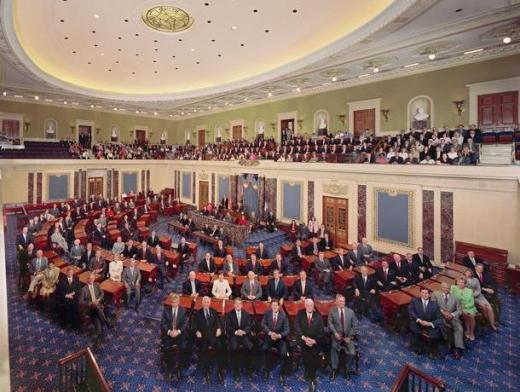 The method of joint resolution is used for a variety of purposes. All constitutional amendments are passed using this method, before being sent to the populace of the states for ratification. The process is also used to create temporary committees, declare war or annex countries.
A joint resolution is not used for the passage of legislation in certain circumstances which Congress deems necessary. When a law needs to be amended or repealed, Congress uses the process of a bill. Likewise, the same measure is taken when procuring funds in appropriation acts. Also, situations requiring a concurrent resolution never use the format. These are situations which require no presidential approval, such as calling for recess or a Joint Session of Congress.
One of the major uses of a joint resolution is to enact the Saxbe fix. This allows Congress to approve a presidential appointment of a representative or Senator to an office while the official is still serving his or her term. According to the US Constitution's Ineligibility Clause, no member of Congress can be appointed to a civil service position with higher pay while serving. The Saxbe fix overrides this fact, allowing the official to serve.
AS FEATURED ON:
AS FEATURED ON:

Joint Resolutions are approved by both houses of Congress.

By: zimmytws

A joint resolution is used by Congress to approve a legal action.

By: James Steidl

Overriding a presidential veto requires both houses of Congress to approve the bill by a two-thirds majority, according to the US Constitution.