What is a Hypertension Headache? (with pictures)
A hypertension headache is described as a localized pain near the crown of the head, usually more severe in the morning and diminishing by the afternoon. Members of the general public usually associate a hypertension headache with high blood pressure, but it is by no means a symptom of the disease. Even though some people experience headaches with hypertension, there is no concrete evidence to link the two. Extensive medical studies have shown that hypertension headaches are often related to other factors, such as stress, anxiety and different health problems.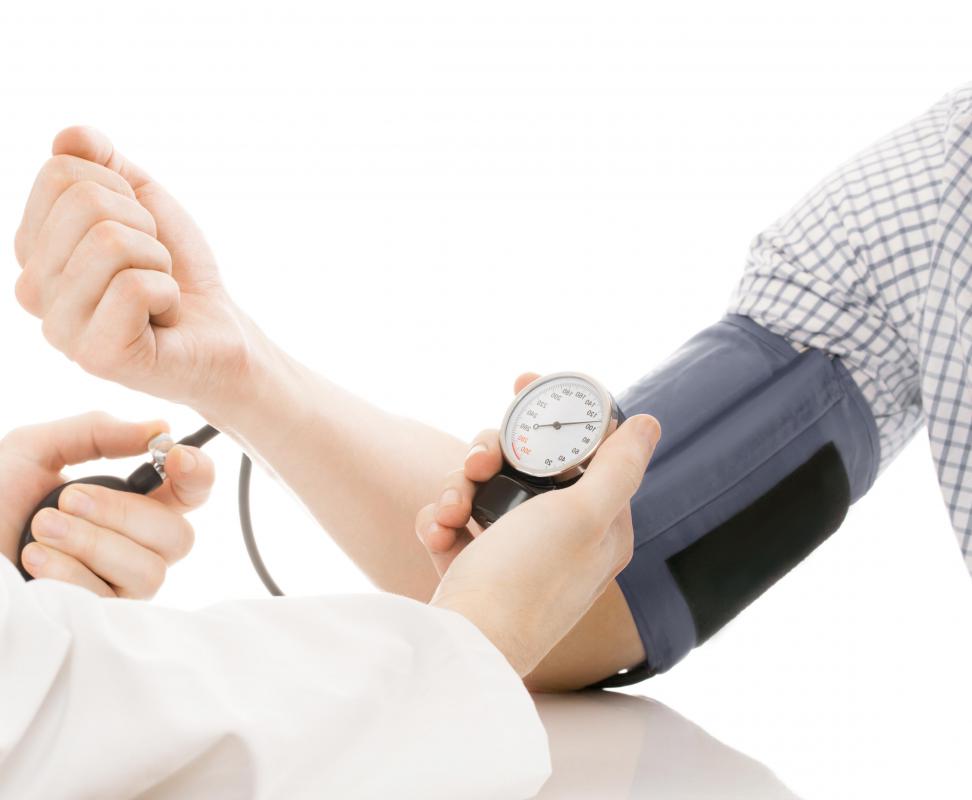 Hypertension is a common condition in which the veins carrying the blood from the heart to the arteries are constricted, causing the blood pressure to elevate. The reasons for high blood pressure are not always known, but some contributing factors include high sodium intake, obesity, genetics and kidney failure. Commonly reported symptoms include a headache upon waking, blurred vision, dizziness and depression. More often than not, there are no symptoms of hypertension, which is why it is referred to as "the silent killer."
A hypertension headache can be caused by a variety of factors that are not all attributed to high blood pressure. Only in severe cases of high blood pressure is there direct evidence of a hypertension headache. In all other cases, it is important to remember that headaches might be caused by everyday stress or unusual levels of anxiety, which in turn contribute to high blood pressure. Hypertension medications and sleep apnea also can cause headaches in patients who have high blood pressure.
Researchers in the medical field have done extensive studies to determine whether hypertension headaches exist, and the studies have had conflicting results. Some studies show a correlation between headache and severe cases of hypertension, which is when the blood pressure is over 200 systolic and 110 diastolic, but mild hypertension and headache usually are not associated. There is little medical data to show that high blood pressure is the direct cause of a hypertension headache. Most studies conclude that both hypertension and headaches are common in the general population but not necessarily related.
Anyone experiencing persistent or severe headaches should seek medical care. Persons with hypertension should have regular screenings to determine their blood pressure levels. It also is important to take medications as prescribed by a doctor. Eating the right foods and exercising can help keep blood pressure regulated and can reduce the frequency of hypertension headaches.
Dizziness is common with a hypertension headache.

There is no clear link between high blood pressure and hypertension headaches.

Prolonged physical inactivity and too much dietary sodium may contribute to a hypertension headache.

A patient who experiences frequent headaches of any type should consult her doctor to rule out any serious underlying health concerns.

People with high blood pressure should have regular screenings to monitor their condition.

A hypertension headache is usually most severe in the morning.