What is a Hyaluronic Moisturizer?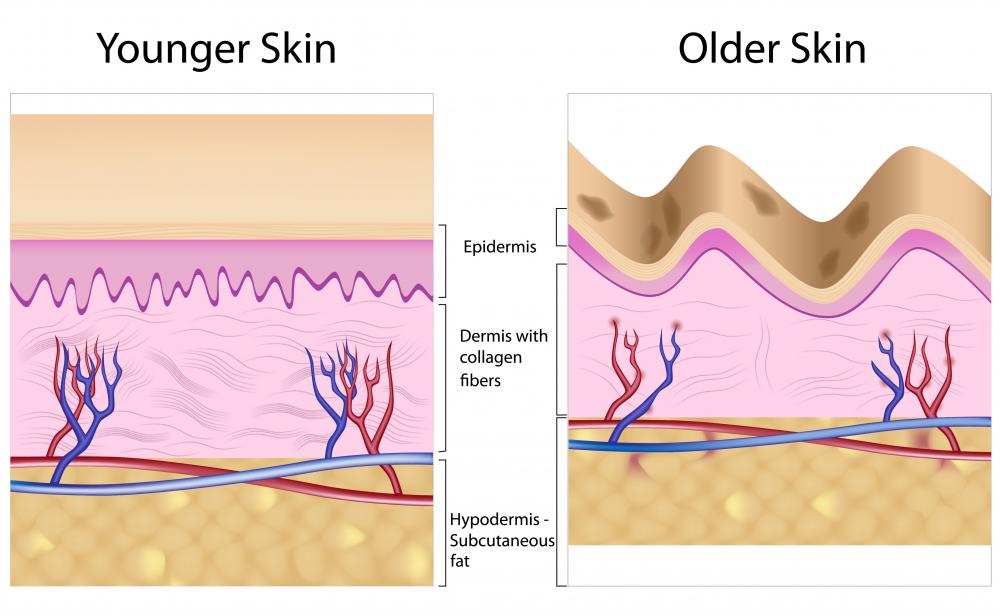 Hyaluronic moisturizer is a skin-care product which contains hyaluronic acid as its primary active ingredient. The hyaluronic acid found in this type of moisturizer works with the elastin and collagen naturally present in the skin to add suppleness, youthfulness, and elasticity. It also stimulates new cell growth, hydrates, and protects the skin. Hyaluronic acid is able to hold 1000 times its weight in water making it a popular ingredient in facial moisturizers.
In addition to hyaluronic acid, hyaluronic moisturizer generally contains other ingredients that also moisturize and hydrate the skin. Some common ingredients contained in this moisturizer include peanut oil, Vitamin A, apricot kernel oil, and jojoba oil. Such a moisturizer may also contain sunscreen to protect against the damaging rays of the sun and premature aging due to sun damage.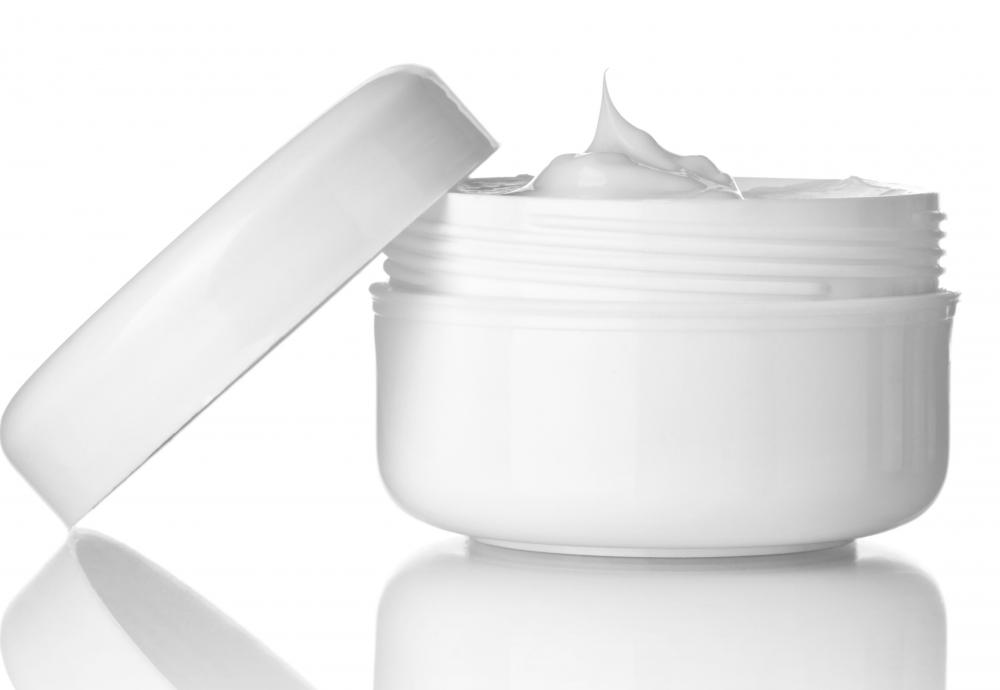 The hyaluronic acid that is used in hyaluronic moisturizer is a naturally occurring substance, not a man-made product. Manufacturers of these moisturizers obtain it from several different sources including human placentas, the eyes of cows, and cock's combs. Hyaluronic acid is produced naturally in the skin, but it degrades with age and when exposed to ultraviolet (UV) rays. It is also present in connective tissue, synovial fluid, and cartilage. Since hyaluronic acid is completely natural, it is considered by many to be one of the safer ingredients used in moisturizers today.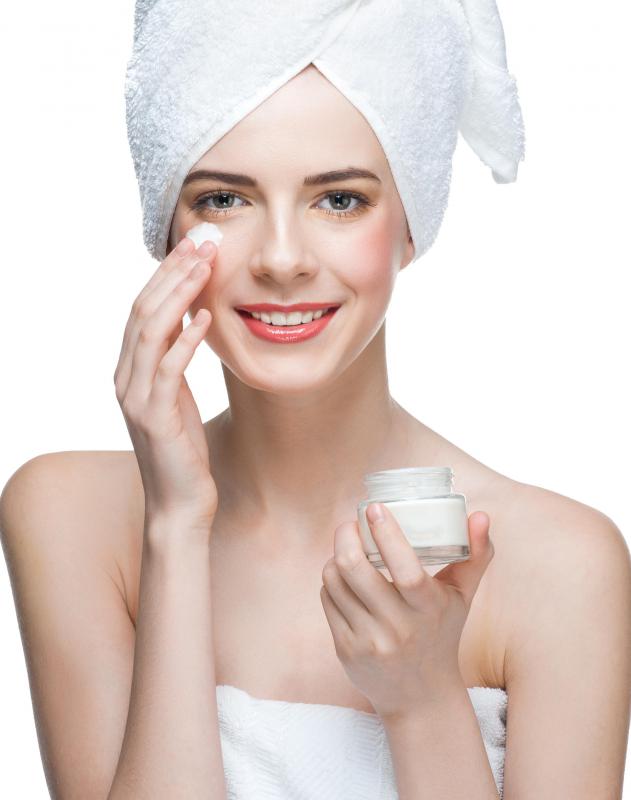 Moisturizer with hyaluronic acid should be applied to the skin in a thin even layer, then allowed to air dry. It can be used alone or worn under make-up as a primer. Some users report mixing hyaluronic moisturizer with Vitamin C cream to make the product easier to apply.
Hyaluronic moisturizer is commonly used by people with all skin types from oily to dry to combination, but it is particularly popular with those individuals who have dry, delicate, or mature skin. For maximum results, it is generally used after exfoliating the skin. Manufacturers of these products recommend using moisturizers with hyaluronic acid on a daily basis; and it may be used as either a day cream, a night cream, or both.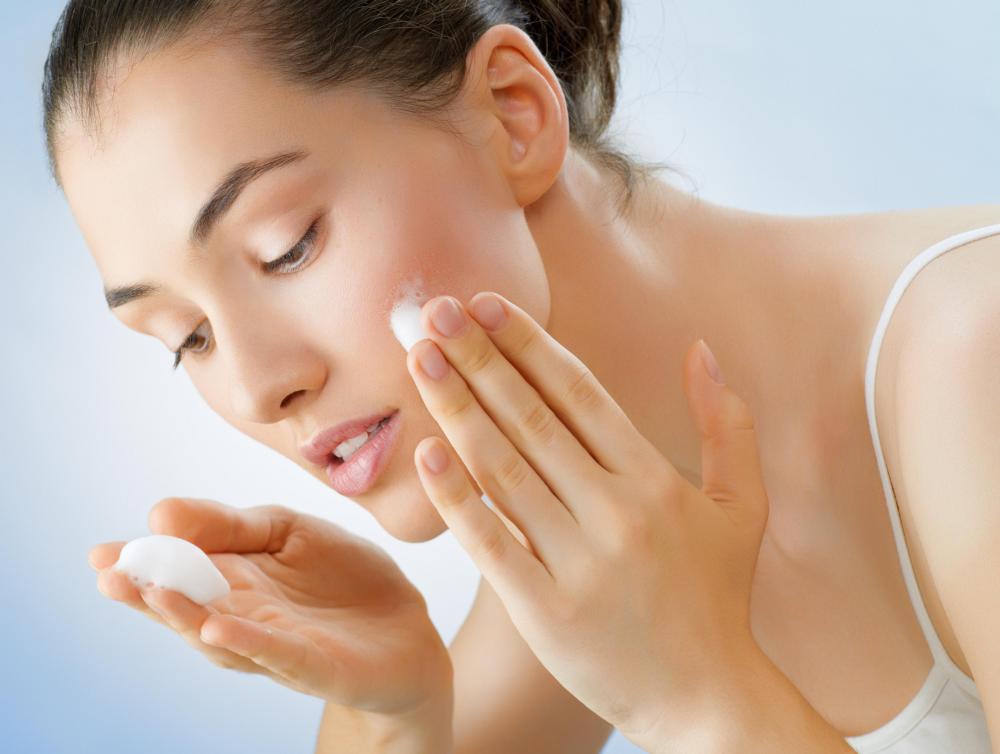 The use of hyaluronic acid moisturizing cream is a less invasive alternative to the hyaluronic acid injections sometimes used to plump lines and smooth wrinkles. These injections are typically performed in a physician's office. Hyaluronic moisturizer also comes without the unwanted side effects of the injections, which include bruising and swelling. Another benefit of this moisturizer is that it is generally available without a prescription.
By: Alila

A diagram of younger skin and older skin showing how the decrease in collagen in older skin can lead to wrinkles.

By: millaf

Hyaluronic moisturizers may help moisturize the skin.

By: picsfive

Hyaluronic moisturizers hydrate and stimulate new cell growth.

By: Mikhail Malyugin

Hyaluronic moisturizers oftecontain sunscreen to help protect against sun exposure and premature aging.

By: Konstantin Yuganov

Hyaluronic moisturizer is commonly used by people with all skin types.

By: picsfive

The use of hyaluronic acid moisturizing cream is a less invasive alternative to injections of the same acid.