What Is a Hospitalist Group?
First and foremost a hospitalist group consists of physicians and other medical professionals who specialize in delivering care to hospitalized patients. Hospitalist groups usually have attending physicians at the hospitals where they are contracted, working around the clock every day of the week. These physicians treat patients while they are in the hospital and correspond with the patients' regular doctors and other specialists to coordinate care and treatment. Known as hospitalists, physicians who work in hospitalist groups are not usually employees of the hospital, and not all are internal medicine physicians, though most are board certified as such. Since some specialize, a hospitalist group tends to try and keep a staff comprised of a complete team of general and specialized hospitalists in order to best serve the patient base.
The reasoning behind hospitalist groups boils down to efficiency and cost. Rather than hospitals staffing physicians on a full-time basis or family physicians making rounds at hospitals, contracting with hospitalist groups keeps adequate physicians on call at all times, while eliminating costly overhead to do so. Efficiency-wise, patients are usually better served because hospitals can be more proactive toward meeting their needs to include shortening the length of stay and rending needed care much faster. For example, patients do not have to wait overnight for their doctor to come in the next morning to interpret tests, order new tests, or make decisions regarding care or release from the hospital.
Just as any physician, hospitalists who are part of a hospitalist group will perform the same functions required to treat and care for hospitalized patients. Functions of a hospitalist will include treating and assessing medical conditions, making arrangement for appropriate specialized treatment, and interpreting the outcomes of such treatment. As well, he or she will communicate with family members and the patient's family doctor as well as discharge patients. Part of the discharge process will often include coordinating follow-up treatment and care with the patient's family physician.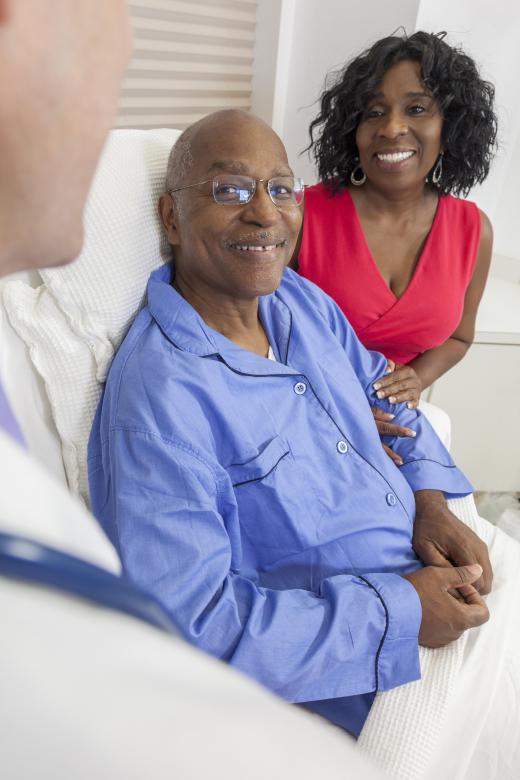 Training and qualifications are typically ranked as highly important to hospitalist groups because providing quality care is central to their business model and success. Therefore, hospitalists who are part of a hospitalist group must gain the confidence of their peers, such as family physicians and directors of hospitals, as well as the confidence of patients and directors of the hospitalist group. Due to such emphasis on qualifications, quality and ongoing training, most groups of hospitalists feel they are in the best position to provide treatment to hospitalized patients.
AS FEATURED ON:
AS FEATURED ON:

By: apops

Hospitalists are doctors who oversee the care of inpatients in hospitals.

By: spotmatikphoto

Inpatient physicians, also called hospitalists, spend at least 25 percent of their time treating hospitalized patients.

By: jovannig

Hospitalists must gain the confidence of family physicians and other medical personnel.