What Is a Home Ultrasound?
A home ultrasound is a device is used to transmit sound waves into muscle tissue for pain relief. Sound waves cause the soft tissue cellular activity within the muscle to increase, promoting blood circulation, pain relief, and tissue repair. The home ultrasound machine operates on a megahertz (MHz) frequency that is just a fraction of that used by the diagnostic and therapeutic ultrasounds utilized in most hospitals and doctor's offices. Therapeutic ultrasound is often prescribed for people suffering from painful musculoskeletal (MSK) conditions, such as spasms, tension, stiffness, and inflammation.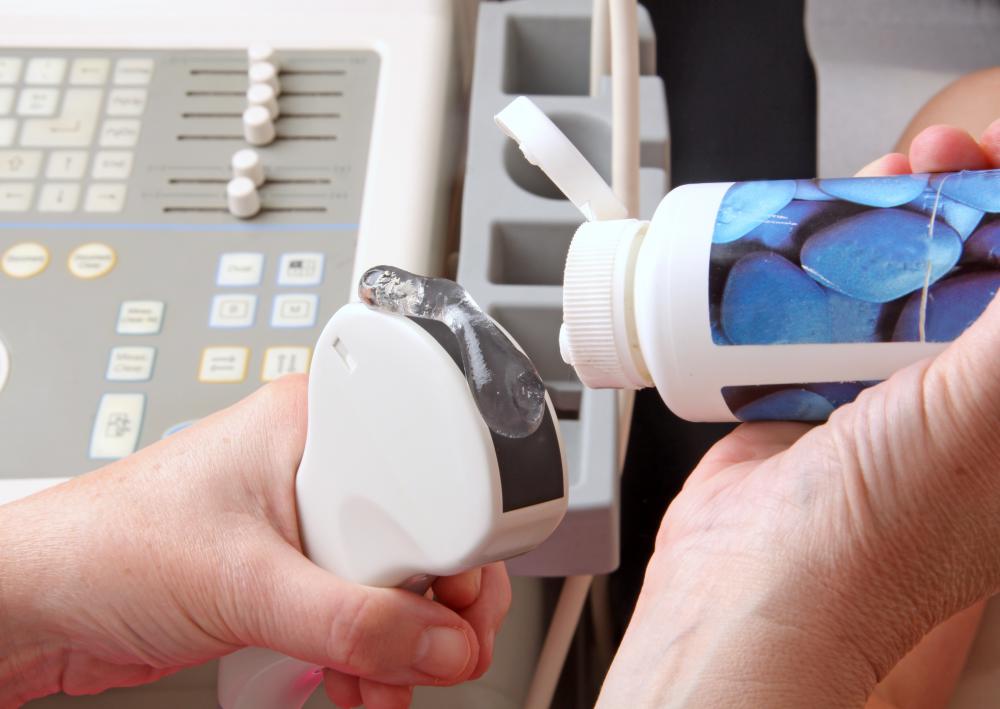 Home ultrasound may be used to enhance the effectiveness of topical pain relief creams, gels, or ointments. The addition of home ultrasound therapy may also increase the anti-inflammatory properties of many analgesic substances. Sound waves emitted from the machine causes cavitation, which is the formation of small air bubbles in a liquid, which forces the medication to spread throughout the painful tissue quickly.
Vibrations that are produced in the soft tissue from the ultrasound machine cause the treatment area to become warm, increasing the diameter of the blood vessels in the region. Wider blood vessels allow more of the topical analgesic medication to disperse throughout the painful area, resulting in less pain. The increase in tissue warmth is caused by the additional flow of blood to the area; this may promote faster healing times for torn muscles, tendons, and ligaments.
To use the home ultrasound machine, a small amount of a transducer gel is applied to the skin immediately above the painful area. The gel enables the therapeutic ultrasound waves to penetrate through the skin to the muscle. A small hand-held device called a transducer is used to transmit the ultrasound waves into the tissue. The transducer is moved in small circles over the painful area for the length of time prescribed by the physician. After the treatment time has passed, the gel is wiped from the skin, and the machine is cleaned and prepared for the next treatment session.
Most home ultrasound machines operate differently than the professional machines used by most hospitals and physicians. Professional grade ultrasound devices make use of a continuous pattern of sound waves, and require the administration of the therapy by a trained ultrasound technician to prevent damage to the tissues. Portable home ultrasound machines use short pulses of ultrasonic sound waves, allowing for the safe operation of the device by the patient when unsupervised by medical professionals.
By: ventura

A woman holding a prenatal ultrasound.

By: Klaus Eppele

Using transducer gel for a home ultrasound will allow ultrasound waves to penetrate through the skin and muscle.

By: JackF

Professional grade ultrasound devices use a continuous pattern of sound waves, and require the administration of a trained ultrasound technician to prevent tissue damage.