What Is a Home Office Armoire?
A home office armoire is a type of cabinet, often used for filing important documents and office supplies that are stored in a home office. A home office armoire differs from an ordinary storage cabinet, as it is typically more ornate and may be used as a decorative addition to home office decor. The home office armoire will typically have cabinet doors and be constructed of wood, often with brass hardware.
Some home office armoires are made to hold a computer monitor or laptop computer. Many feature slide-out keyboard trays as well. In addition, this type of armoire may hold a computer modem, a printer, and fax machine. The size of a home office armoire may vary depending on space and needs.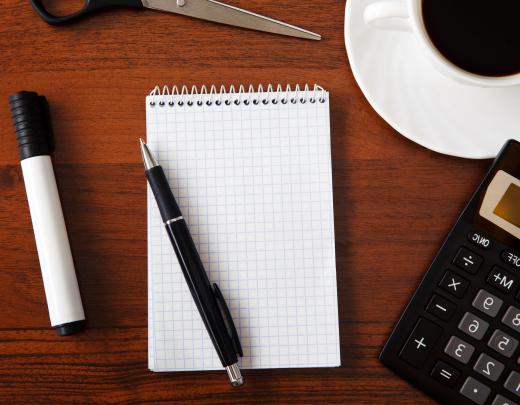 Most commonly, the home office armoire will be constructed of a high-quality wood. Cherry, maple, or walnut are commonly used for making home office furniture, although oak may be used for the office armoire as well. Some office armoires are made with a natural wood finish, while others may feature a laminate finish.
The dimensions of a home office armoire may also vary. Most of these pieces will stand anywhere from 48-72 inches (1.21-1.83 meters) tall. The typical width of a home office armoire is approximately 45 inches (1.14 meters).
The home office armoire is made to be a practical solution for performing office duties at home. A versatile workstation, an office armoire for the home may also feature a writing area. This makes it easy to write notes or complete paperwork while having all the necessary writing implements and office supplies nearby.
Some home office armoires feature an extra deep bottom drawer. The deep drawer is convenient for using as a file cabinet. Alternately, the deeper drawer may be used to store boxes or other bulky home office supplies. Most armoires for a home office come ready to assemble.
An office armoire will typically feature a hutch. The hutch is a large top compartment with various sized shelves. The shelves may hold items such as notepads, pens, and markers. A larger area of the hutch is typically designated for holding a computer monitor. To keep everything hidden, the armoire will typically be made with double doors that fit flush against the cabinet when closed.
Many home office armoires are available with matching desk style chairs. As a stylish addition to home office decor, other pieces may be available upon request or custom made. Coordinating pieces often include a printer table or computer tower for holding the computer's central processing unit (CPU).
AS FEATURED ON:
AS FEATURED ON:

By: serkucher

A home office armoire can be used to store basic office supplies.