What is a Heating Technician?
Heating technicians are responsible for installation, maintenance, or repairing home, commercial, or industrial heat systems. They can read blueprints and connect wires. Heating technicians know how to take measurements, cut pipes, connect pipes, and weld as needed. Heating technicians also do routine maintenance work for the purpose of keeping heating systems working in an efficient manner.
During the spring and summer when the weather is warmer, the heating technician may be called on to replace filters or clean ducts. During the winter months when the weather is colder, heating technicians may do work such as adjusting burners or blowers. If the heat system appears to not be working, they might check the burner nozzle, the controls, or the thermostat to diagnose the problem.
Heating technicians are typically trained via apprenticeship programs that lead to trade certification. This career is not easy to prepare for because there are various types of heating, such as gas, electric, oil, and coal. In addition, within heat systems there are pumps, motors, fans, compressors, ducts, thermostats, or various switches. Heating technicians must understand all of these various types of heating and must be able to fix any aspect of them.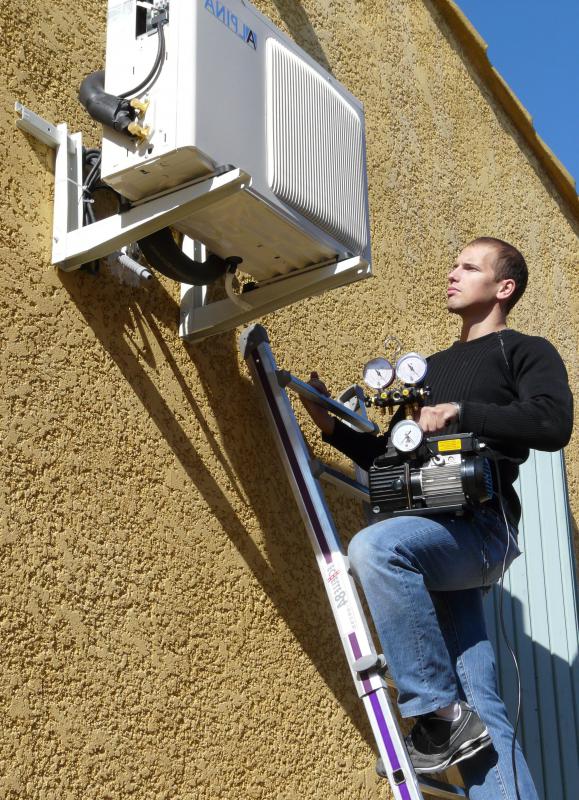 In addition to having heating repair skills, the heating technician has to have very steady hands. It is often necessary to reach under, over, or around parts of heaters to make the necessary repairs. Good concentration and the ability to work in stressful conditions are also necessary for a heating technician to have.
For instance, a heating technician may be called in the evening during the winter right after someone's heater has broken down. This is a stressful time for the homeowner because his heater is broken and the house is cold. Heating technicians must be able to cope with that kind of stress and still do an effective job of quickly diagnosing the problem and fixing the heater.
Keep in mind that work hours for a heating technician will vary. For instance, under typical conditions, heating technicians may work 40 hours per week. Work could occur anytime during the day and could occur on weekends as needed. Granted, heating technicians could work more hours per week during winter months because of the extreme necessity to have a heater that works when it is very cold outside.
Heating technicians can work for heating servicing or repair companies, for schools, or could work for government offices. Heating technicians with a few years of work experience could become supervisors or they could start their own heating repair business. By contrast, they could pursue other service careers such as air conditioning repair or heating insulation.
A heating technician may pursue work in air conditioning repair.

An HVAC technician may repair or install home boiler systems.

A heating technician is trained to perform work on heating systems.

Many companies that manufacture air conditioners and heaters offer maintenance and repair services.