What Is a Green Bean Casserole?
Green bean casserole features green beans as a main ingredient and is a staple at many holiday gatherings. The green bean's versatility and culinary compatibility enables it to be featured in a variety of casseroles. Green bean casserole typically features green beans combined with condensed soup and seasonings, then topped off with French-fried onions.
Classic green bean casserole features cream of mushroom soup, green beans and milk, which is baked and topped with French fried onions. It is also flavored with soy sauce, black pepper, and some of the fried onions are often stirred in with the beans before cooking. Chef Paula Deen of American television fame puts her own take on this classic by adding mushrooms and onions sauteed in butter, along with grated cheddar cheese sprinkled on top of the casserole.
Green beans featured in a casserole can be prepared in a variety of ways. Deen boils the green beans in chicken broth before putting them into the casserole. Green beans can be used whole, with just their ends nipped off, or sliced into bite-sized pieces. They can also be French-cut, where the bean is cut lengthwise along its seam, splitting the bean in half. The half lengths can be left as-is, or cut at an angle into smaller pieces.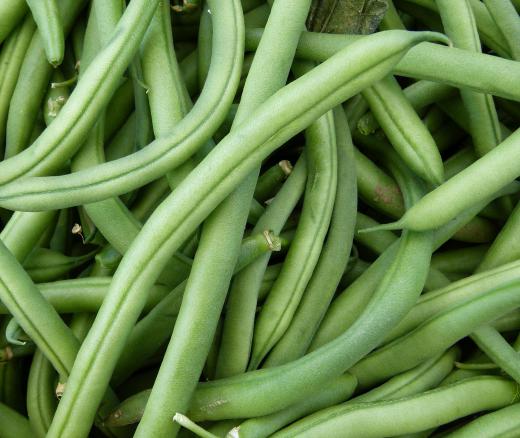 One factor most green bean casserole recipes have in common is being topped with French-fried onions. Many recipes call for some of the fried onions to be mixed in with the green beans prior to the casserole being put into the oven. When the casserole is nearly finished baking, more fried onions are sprinkled on the top of it, and the casserole is cooked for a few additional minutes.
There are several twists to the classic green bean casserole recipe. The new green bean casserole recipe calls for mushrooms and shallots cooked in butter. They are combined with garlic and herb cream cheese, light cream and Parmesan cheese. Creamy and cheesy green bean casserole features Velveeta® cheese, milk and cream of celery soup. Tater tot green bean casserole combines French-cut green beans with ground beef, tater tots and cheddar cheese.
Other casserole variations include green bean casserole amandine, flavored with celery, shallots and garlic. Soy sauce, Worcestershire sauce and slivered almonds round out its flavor. Green bean casserole and dumplings features green beans, cream of mushroom soup and canned mushrooms. The mixture is combined and placed in a baking dish on top of biscuit dough formed into dumplings. The dish is covered and baked until the dumplings are thoroughly cooked.
AS FEATURED ON:
AS FEATURED ON:

Green bean casserole sometimes includes shallots.

By: heysooooos

Green beans are mixed with condensed soup and baked to make green bean casserole.

By: andersphoto

Celery is often added to green bean casseroles for flavoring.

By: B. and E. Dudzinscy

When buying green beans for a casserole, look for beans that are bright green, firm, and crisp.