What is a GPS Tracking Watch?
A GPS tracking watch uses navigation satellite technology for a variety of purposes, including recording and tracking location, distance, speed and other data. The Global Positioning System of satellites was developed and is managed by the United States Air Force. The satellite system is commonly used for civilian applications in addition to its military uses. Cars often have GPS navigation systems built in, and handheld GPS receivers are popular in hobbies such as geocaching, for example. The GPS tracking watch is a wristwatch with a built-in or separate receiver that can tap into the satellite system to determine its wearer's precise location.
There are several companies that manufacture GPS tracking watches for different uses. The watches are popular with athletes, and styles are made for a variety of sports. A GPS tracking watch made for use in golf can help golfers lower their handicaps by providing their distance to the hole, by tracking actual shot lengths and more.
GPS tracking watches for runners can monitor their heart rate, calories burned, speed and distance. They help runners keep track of exactly where they have been during their workouts by tracking their routes point by point. On some models of watches, with additional software, post-workout analyses can be sent to the runners' computers to help them monitor their performances. Tracking watches made for hikers, skiers and other outdoor enthusiasts have barometers and compasses to keep track of weather and keep wearers going in their intended directions. Some models allow users to record their treks deep into the wilderness and later use their computers to review where they've been.
GPS tracking watches can keep track of where people have been and also where they currently are. GPS tracking watches that pinpoint current locations within a few hundred feet are becoming increasingly popular for the real-time monitoring of children. They also are marketed for the elderly, for workers in remote locations and others.
Tracking watches with GPS capability work with specialized computer software to pinpoint the exact location of the wearer. For example, a parent can log onto his or her computer to instantly see the location of his or her child. Monthly fees are charged for the computer capability and are in addition to the initial cost of the watch.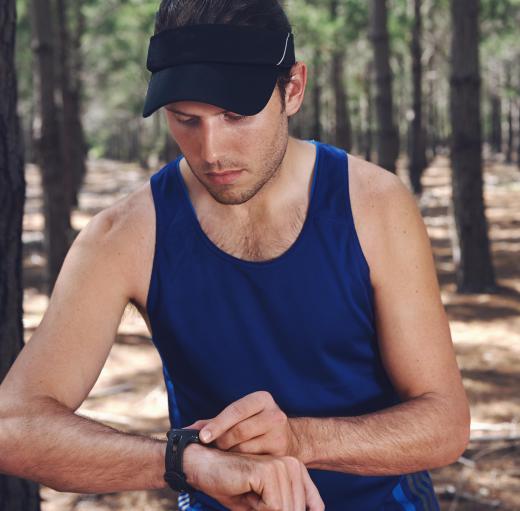 Other capabilities of this type of GPS tracking watch can include distress alarms and speakerphones to put the wearer quickly in touch with emergency personnel. The use of GPS technology to monitor people's whereabouts has its share of controversy because some people feel that they might be tracked when they don't want to be or by someone whom they don't want tracking them. Other people applaud the technology's use in monitoring the whereabouts of children and possibly locating missing people.
AS FEATURED ON:
AS FEATURED ON:

By: Maridav

Some running watches have a GPS built in.

By: mario beauregard

Some GPS watches include barometers to alert outdoor enthusiasts to coming storms.

By: Warren Goldswain

GPS tracking watches can monitor heart rate, calories burned, speed and distance.