What is a Golden Chain Tree?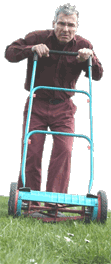 The Laburnum anagyroides, or golden chain tree, is a small poisonous tree. A member of the pea family, it sports long chains of golden flowers, which give the tree its name. Many people plant the deciduous garden trees in clusters to create a bold, bright landscaping effect.
Golden chain trees typically do not grow any taller than 20 feet (6 m) in height. The tree itself is vase-shaped and hardy, though it grows best in moist soils. The golden chain is a hybrid plant, made from crossing the Scotch and common laburnum varieties. As it grows, its width spreads nearly as wide as its height. Foliage of the tree is generally bright green, while the plant's bark is a lighter olive shade.
Sunny, soft blossoms of the golden chain tree can become the focal point of any garden arrangement. Each pendulous chain of dense yellow clusters on the golden chain tree can grow up to 20 inches (51 cm) long. Flowers may bloom from mid spring to early summer. Blooming typically lasts for 10 to 12 days.
Seed pods fall from the trees during the fall. These can be dried and used for propagating the trees elsewhere. Once dried, the seeds can be placed in potting soil to begin the growing process. Transplanting of the young saplings can be completed in the spring. In a garden, golden chain trees work best as ornamental plants and border plants.
Cool temperatures promote the best growth for the golden chain tree. Trees in warm climates may not bloom well, or for as long as they do in cooler areas. Well-drained soil should be used for optimal growing of this tree. Care for the golden chain tree is considered to be simple, with little to no pruning required. The hybrid trees are known to have a short lifespan, living for an average of 20 years.
These ornamental trees must be handled with care. Every part of the tree is considered to be poisonous due to the presence of a toxic alkaloid known as cytisine. Simply touching the tree can cause an allergic reaction or skin irritation to people with sensitive skin. When planting this tree, gloves are usually recommended. Ingesting this alkaloid can be fatal, and people with young children or domesticated animals may wish to avoid the tree due to its toxicity. Wild animals typically show no interest in the tree.
Man mowing the grass