What is a Garmin® Handheld GPS?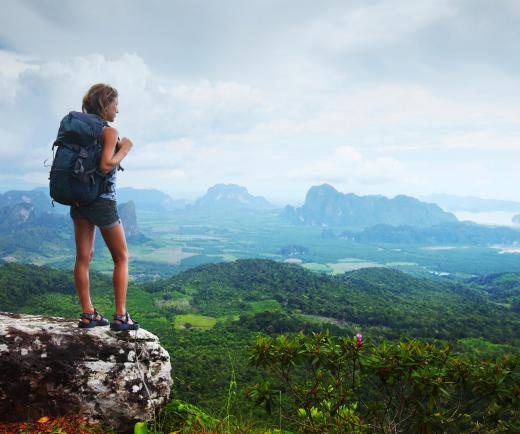 A Garmin® handheld GPS is an electronic device used for providing directions and distance measurements to people traveling on foot. GPS stands for Global Positioning System, which uses a system of satellites to create maps and pinpoint individual locations on the globe, transmitting those maps and directions to GPS receivers. Though there are many manufacturers of handheld GPS devices, Garmin® handheld GPS devices are some of the most common, particularly in the United States. Long before GPS technology was affordable to the general public, Garmin produced related technology for the military and the aviation industry.
A Garmin® handheld GPS typically comes in one of two designs. The first is simply a small device that is literally held in the hand; though it is similar in design to a GPS for an auto, it is typically slightly smaller. It may feature a clip or tie in order to fasten it to a belt or backpack. The second type of design is more like a wristwatch. These are often smaller and simpler, with fewer features, than the GPS held in the hand.
Garmin® handheld GPS devices range in price depending on their features. Smaller, simpler versions generally have a grayscale screen, and may or may not have the capability to display maps. These are often used by runners or cyclists who want to track distance, note coordinates, and get a rough estimate of terrain covered. Some of these include additional features such as a stopwatch or clock, as well as the capability to store data from runs or hikes that can then be uploaded and viewed on a computer. They usually feature small buttons to navigate through the menus.
The more advanced types of Garmin® handheld GPS units often feature color touchscreens with more advanced mapping features. These are able to provide directional guidance, similar to a GPS unit used in a vehicle. Extra features included on this type of GPS device might include a barometric altimeter, compass, wireless connectivity for a computer, or even a slot for additional memory cards. Both types of handheld GPS devices are designed to be rugged and to withstand weather and temperature changes.


By: Dudarev Mikhail

Garmin Handheld GPS devices can be used by hikers to navigate rough terrain.

By: puhhha

Smaller versions of a Garmin handheld BPS may be used by runners who want to track the distance and terrain they've covered.