What is a Flat Plug Surge Protector?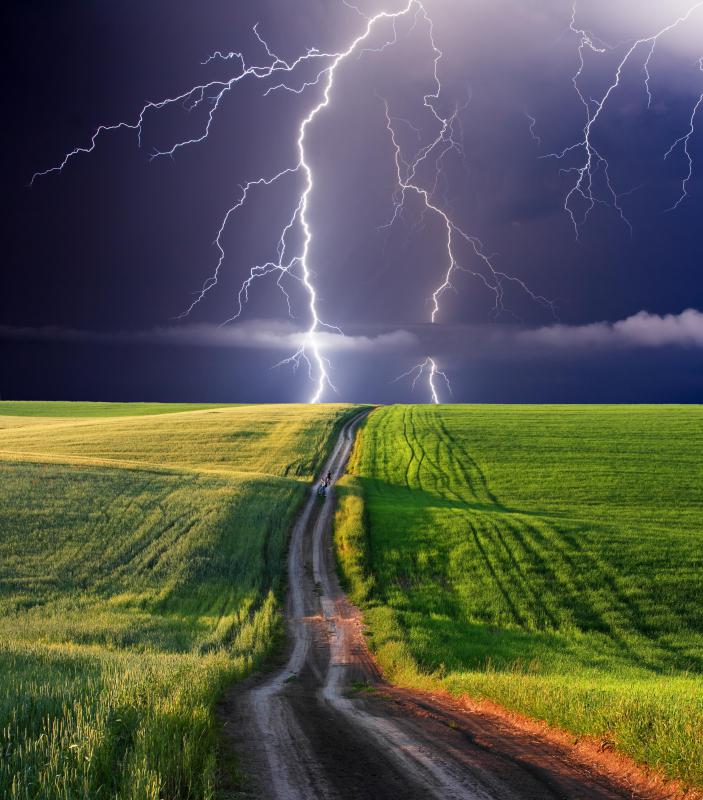 A flat plug surge protector is designed to protect a person's electrical equipment from potentially damaging electricity surges while also saving space. This type of surge protector is built with a flat plug, which means it doesn't stick out from the wall and require a lot of space between the outlet and furniture, appliances, and decorative objects. Instead, the plug portion of a flat plug surge protector lies flat and takes up very little space.
One of the problems a person may have with a basic surge protector is that the plug sticks out from the wall. This makes for inconvenient placement in some cases. For example, a surge protector with a regular plug cannot be placed behind a bookcase, bed, dresser, appliance, sofa, or chair, unless the user doesn't mind leaving a gap between the wall and the furniture or appliance. To avoid this issue, many people choose flat plug surge protectors that do not require a person to deal with gaps or puzzle over a better placement.
When a person is in the market for a flat plug surge protector, he may do well to take some time with choosing one. This is because power strips are easy to mistake for surge protectors. Unfortunately, however, power strips don't do the same job. Basically, a power strip provides multiple outlets that can be used to power a range of devices. A surge protector, on the other hand, not only allows a person to plug in multiple devices, but also keep those devices protected from power surges.
A flat plug surge protector works the same way other surge protectors do; the only real difference is its design. A flat plug surge protector helps to prevent damage to electrical devices when there is an increase in voltage. Without a surge protector, an increase may damage an electrical device and render it inoperable. Even if the device is still usable, repeated surges may slowly damage it. When a surge protector is in use, excess electricity is diverted to a grounding wire, and electrical devices are kept safe.
Some flat plug surge protectors are also designed with plug heads that curve to the side rather than extending downward. This extra feature may make the surge protector even more convenient. Since the plug curves to the side, it will not block other sockets, even if it is used in an outlet's top socket.
By: Leonid

Lightning is one potential cause of power surges.