Sometimes referred to as a fat skimmer, the purpose of the fat separator is to allow liquid fat to be removed from the juices that emitted from the meat during the cooking process. This allows the juices to be used to greater effect in gravies and sauces. It is also a great way to reduce the fat content of a number of different foods, making them more healthy for consumption.
There are in fact several different devices that can rightly be referred to as a fat separator. For example, if the task is to remove fat that has bubbled to the top on the outside of a roast, then a bulb baster can be used to remove the collected fat from the juices. There are some larger kitchen spoons that can also be used to skim along the top where the liquid fat is floating and remove it from the prepared dish. Skimming fat is easily accomplished with a flat spoon. The use of a spoon to separate fat is common when skimming any layers of fat from the top of soups and stews. Essentially, any kitchen device that is used to remove liquefied fat from food in preparation qualifies as a form of fat separator.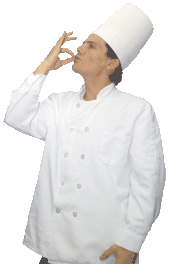 However, there is a kitchen utensil that is actually referred to as a fat separator. This device resembles a small pitcher and is usually made of a clear material, such as clear resin plastic or heat resistant glass, with a spout attaching to the lower part of the pitcher. Using this pitcher style separator requires that the meat drippings be poured into the pitcher. From there, the fats will rise to the surface of the drippings. Gathering fat to the surface makes it possible to pour the drippings out of the spout, while the fat remains in the pitcher. Separating fat from the drippings using this type of separator is quick, easy, and potentially less messy than many other methods.
Fat separators are not costly, and can often be found in the kitchen sections of any discount retail store. Kitchen shops will also carry several types of the fat skimmer, with some being specialized and others for more general use. Typically, this tool does not cost a great deal, and will last for a number of years.
AS FEATURED ON:
AS FEATURED ON:

Chef