What Is a Fancy Dress Wig?
A fancy dress wig typically refers to a designer or costume wig, often worn for masquerade or Halloween parties and other events. A fancy dress wig may be available for men, women, and children, and made with various synthetic materials or natural hair. Costume wigs are often seen in bright colors, such as pink, blue or rainbow patterns. A fancy dress wig created for a masquerade party may also feature accessories, such as ribbons and bows, or sewn-on caps and hats. Designer wigs modeled after celebrity hairstyles are often created for impersonations and costume parties.
Additionally, a fancy dress wig may be designed in the likeness of a popular television character. Other wigs that resemble celebrity hairstyles include styles modeled after rock and pop artists. During the 1960s, a popular style of fancy dress wig was known as the Beatles wig. Beatles wigs were created to resemble haircuts worn by the world-famous musical icons, the Beatles. This brown wig featured a shaggy cut with bangs.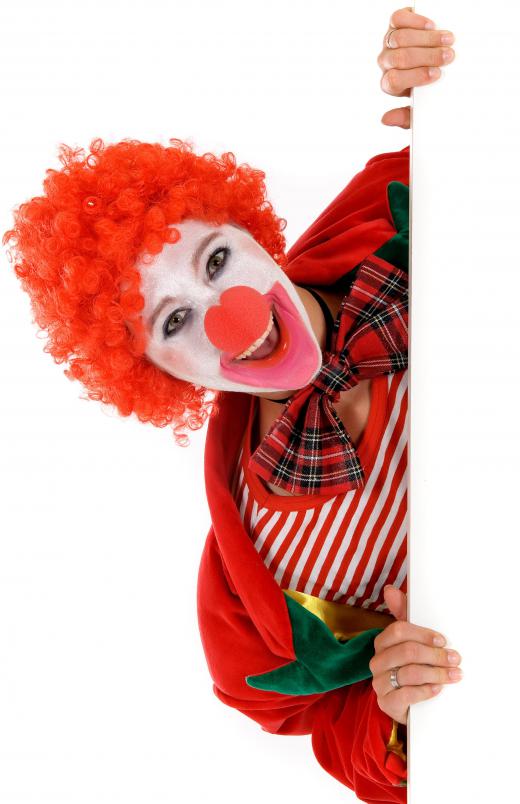 Colonial style dress wigs are used for costume parties with a 1700s theme. These styles of wigs are often worn with a George Washington or Betsy Ross costume. A man's black colonial hat with an attached ponytail wig resembles the hairstyles of America's founding fathers.
A headband and partial wig is another style found at many party outlets. Bendable braids may be glued to the headband. These styles are often worn by children and teenaged girls.
A style designed for costume parties may also include a bi-color fancy dress wig. The multi-color wig may be designed in various colors, such as red and blue, or black and gray. Most multi-color dress wigs feature straight, long hairstyles. Some party wigs are sold in sets that include a full dress costume.
Creating hand-sewn fancy dress wigs for Halloween can be accomplished with materials purchased at a craft store. For instance, a simple clown wig can be made using orange yarn that is adhered to a swimming cap. Longer or more elaborate wig styles can be store-bought, then embellished with glitter or sequins.
Not all fancy dress wigs are designed for costume parties or theatrical performances. Some fancy dress wigs are worn for personal enjoyment or even to enhance one's appearance. Wigs made from natural hair are often used by cancer patients who have lost their hair from chemotherapy treatments. These wigs are often referred to as chemotherapy wigs.
AS FEATURED ON:
AS FEATURED ON:

By: Patrick Hermans

A clown wearing a fancy dress wig.

By: prudkov

Wigs made from natural hair are often used by cancer patients who have lost their hair from chemotherapy treatments.