What Is a Ductile Iron Flange?
A ductile iron flange is a flange that is manufactured from ductile cast iron and designed to be used as an above-ground pipeline for water and other liquids. The ductile iron flange is not as brittle as common, gray cast iron and must not be bent or tightened unevenly, or damage and even breakage might occur. The flange on a straight length of ductile pipe is often threaded and machine-tightened to be certain that the flange is properly aligned. After being assembled, the ductile iron flange is commonly machined flat to be sure that the ends of the pipe are perpendicular to each other.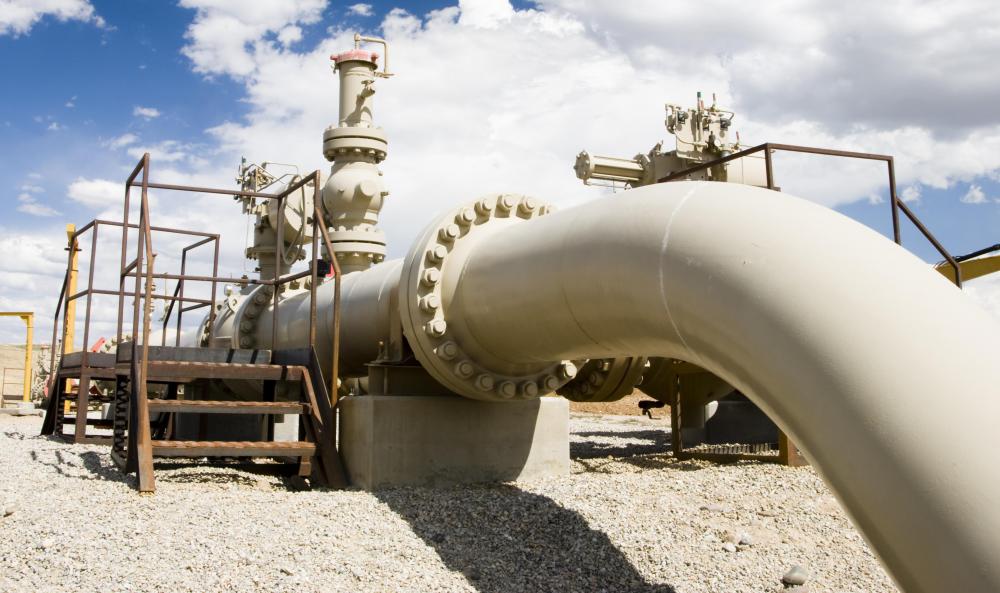 Not intended for underground use, the ductile iron flange is a piece of ductile or nodular cast iron. Ductile cast iron has more graphite and magnesium than the lesser cast iron mixture. The ductile cast iron is allowed to flex and is slightly more elastic than gray cast iron. A ductile iron flange is designed to be used above the ground and is commonly lined when intended to be used for a water pipeline. The ductile cast iron is stronger than aluminum, but it is not as strong as a forged flange.
There are several types of ductile iron flanges, with each design offering a unique aspect in plumbing. From crosses, corners and Ts to flanges of various degree turns and even Y flanges, ductile iron flanges can be manufactured to complete nearly any pipeline installation. The pipe and flanges that are used to carry water are known as lined ductile iron pipe and fittings. The iron is lined with a sand-and-cement mixture to allow the flow through the pipe to be less turbulent and to allow the pipeline to carry more water over a certain distance than a comparable unlined pipeline. This is because of the lack of turbulence in the pipe, the flanges and the various connections.
Ductile iron flanges and pipes typically are used for high-pressure water lines and to transport other high-pressure liquids and gases, such as steam. When the ductile iron pipe is allowed to flex, it can crack and even break. For this reason, the ductile cast iron pipe is always firmly anchored to a structure using straps or similar objects. The flanges require a special gasket to seal the connection as well. Using a rubber gasket will nearly always result in premature failure and might even damage the flange.