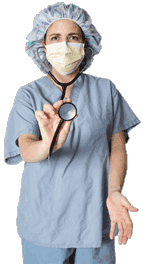 A dual syringe is a medical device that has separate compartments for different medicines, mixers, liquids or drug treatment components. Medical practitioners may use a dual syringe to deliver several drug components or reduce costs. Two separate injections are typically administered with a dual syringe.
Some medical conditions or treatments may require two separate injections. A dual syringe offers an option for both shots to occur at once. Each medicine or liquid is separated by a partition in the syringe that prevents the medicines from mixing with each other. Different sizes exist to accommodate various treatment requirements.
These types of syringes can help ensure that medical treatments that contain two components are given in the proper ratio. The majority of medical syringes come with a 1:1 ratio. This feature ensures that the administered treatment is not heavily diluted or too strong.
Most syringes come in a plastic form, with two needles. The size of the needles can also vary depending upon the design and length of the dual syringe. Some may not contain needles if they are used for purposes that do not require an injection into the skin. For example, a dental dual syringe may be used to administer whitening treatments that contain two mixtures.
Oral syringes may be used in dental treatments that require two separate treatments. For example, bonding material is usually different from a sealant. A dual syringe decreases the amount of time that a dentist or oral technician needs to conduct invasive procedures. It can also reduce the chance for potential mistakes and ensure correction procedures are performed correctly.
Dual syringes are sometimes used by veterinarians to administer vaccines to pets. At times, annual check-ups require that several shots be updated for the same pet. In order to reduce the animal's discomfort and stress levels, two shots can be administered simultaneously without cross-interaction.
Seals are usually a part of a dual syringe, which prevents treatment components from mixing with each other. Contamination between medicines or treatment components can be a primary concern with the use of these types of syringes. For this reason, some syringe models feature colors to identify separate compartments.
Certain types of medical procedures require the use of dual syringes. Enema syringes typically feature two separate compartments. Special nozzles and caps exist for each partition to reduce the chances of contamination.
Nasal syringes are another example of dual syringes. These types of syringes allow for application of treatments to both sides of the nose simultaneously. This can possibly reduce the patient's perception of pain or inconvenience.
Doctor