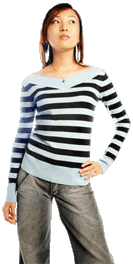 A denim vest is a vest that is made out of denim, which is a rugged cotton twill textile. This type of vest is worn over an outfit to complement it, and it can work with many types of outfits. Many people consider denim to be more of an informal look, but denim vests can be worn even in professional settings or on somewhat formal occasions.
Denim vests are highly versatile and can be worn throughout the year. This is because they can be incorporated into many different outfit styles. They can be layered over shirts and tops or even worn alone. Dresses and pants and can be paired with denim, and they work with various styles of shoes.
Many people who wear denim choose to wear other types of fabrics in different colors along with the denim vest. This is so the other parts of the outfit will not distract from the vest. Wearing too much denim can cancel out the vest's boldness.
Denim vests can be purchased in different styles and looks. The "wash" of a denim vest — which refers to its color or the consistency of its color — can vary and can make a vest look traditional or funky. Personal preferences will determine what kind of wash a wearer prefers, and how it will look with the rest of his or her wardrobe.
The fit of a denim vest is an important factor in how it looks on the wearer's body. A vest that is too large can make the wearer look as if the outfit is not put together correctly. Similarly, a vest that is too snug will make it look like an unnecessary addition to an outfit. When choosing a denim vest, a person should find one that hugs curves but isn't too loose and that can be buttoned comfortably over the body.
Wearing a denim vest can be an easy and inexpensive way to make pre-existing outfits look new or different. Certain styles of vests will appear to complement one specific look over others. For example, acid wash vests can give outfits an edgy look. Traditional, dark vests can pair well with serious or even professional outfits.
Although denim vests can pull together any look quickly and easily, they will not work with every outfit. Most office outfits will not work with denim vests. Likewise, serious evening wear will likely not go well with denim vests. A denim vest is not intended to function as a jacket. It does not provide much coverage or warmth, so it is more like an accessory to an outfit than it is a way to keep warm.
Woman with hand on her hip