What is a Dead Sea Salt Scrub?
A Dead Sea salt scrub is a kind of exfoliant that is made from salt crystals that have been harvested from the Dead Sea. The Dead Sea is a salt lake in Jordan that is so salty that animals cannot live in its waters. While the Dead Sea may be named because of its inhospitable waters, its salts have been used for many purposes. While it is possible to make a scrub using almost any kind of salt, the additional minerals that are present in salt harvested from the Dead Sea make it particularly appealing.
This type of salt scrub can be used in the bath or during a massage to help remove dead skin cells and polish the new skin. Salt scrubs are almost always made with at least a small amount of oil. Once the dead skin has been removed, the oil moisturizes the younger layer of skin beneath. Once the scrub has been applied, massaged into the skin, and then rinsed away with warm water, the skin is left looking smoother and younger.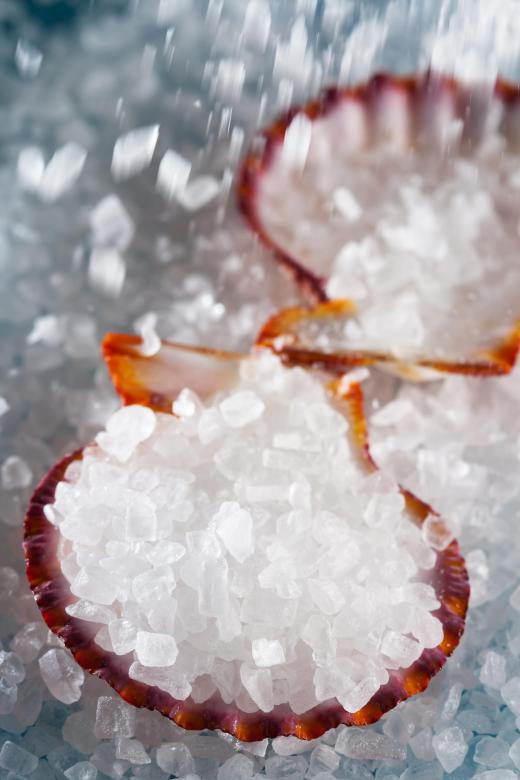 In addition to improving the look of the skin, a Dead Sea salt scrub will also thoroughly clean the pores. This helps to ward off irritation caused by dead skin cells in the pores as well as blemishes such as pimples. A good salt scrub can also help to relieve and prevent ingrown hairs. While there are many soaps and cleansers that can remove dirt and oil from the skin, only a scrub can slough away dead skin cells from the surface of the skin and from within pores.
Using a Dead Sea salt scrub can also help to improve circulation. While massaging the skin with the salt, the skin and tissue beneath it will be stimulated, promoting circulation. Good circulation is important to good health but it can also be beneficial from a beauty standpoint. Circulation can help with the appearance of the skin and can also help to reduce cellulite.
If you do plan on using a Dead Sea salt scrub, be sure not to use it on broken or irritated skin. Doing so will likely sting and can cause further irritation. If you are concerned about salt irritating your skin but would like to experience the benefits of an exfoliant, you can try a sugar-based scrub instead. There are also scrubs that are made from the finely crushed pits of stone fruits such as apricots and peaches.
AS FEATURED ON:
AS FEATURED ON:

By: Elena Moiseeva

Dead Sea salt.

By: F.C.G.

Dead Sea salt scrubs can be used to treat and prevent ingrown hairs.

By: Victor B

Dead Sea salts have a variety of beneficial minerals.