What is a Custom Debit Card?
A custom debit card may be a regular debit card that draws on a checking account or a prepaid debit card that can access the pre-installed amount and may be reloadable. Customizations to the card's appearance may be possible. To customize debit cards, images are added to the card face using a web-based tool, but certain terms and conditions are likely to cover the photographs that may be used by cardholders.
Credit card companies may join with partnering organizations to offer two different types of custom debit card. First, they may offer a private label card that is co-branded, meaning that it displays the logos of both organizations. This is the type of custom debit card a company might give to all its employees to help bolster morale and loyalty. Second, partnering organizations may offer custom debit cards that are a form of affinity card. Affinity debit cards are customized with an illustration to represent the organization — such as a university the cardholder attended, a sports team the cardholder prefers, or a charity the cardholder supports. In this later type, the associated organization receives a revenue share for each transaction made with the custom card.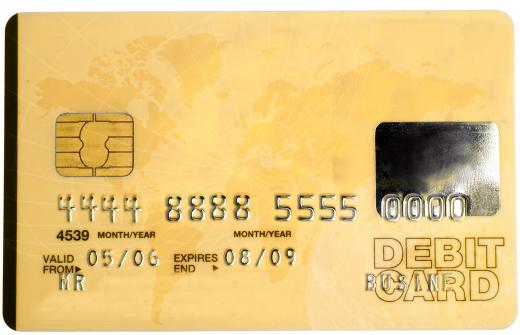 Financial institutions may offer custom debit cards alone or in partnership with a credit card company. In this case, the customization may simply consist of branding or co-branding the card. In response to rising debit-card fraud, some financial institutions may also offer customers a photo ID custom debit card in order to help reduce identity theft. Alternatively, the customer may be allowed to further customize the card with images or designs he or she prefers.
Unlike the other types of custom debit card, cards with the cardholder's photograph or other image chosen by the cardholder are known as personalized debit cards. When the cardholder does his or her own customization, there is generally a choice between an image offered by the financial institution involved and loading a personal photo that the cardholder owns. Using an image from the organization's gallery, the cardholder can simply select a photo he or she likes, or in some cases, select the logo of an organization, such as a college or university. In the latter case, the card may resemble an affinity card without being one. If the cardholder chooses a photo of his or her own, it may serve as a reminder of a great vacation, family members, or a favorite pet.
A web-based tool for creating a custom debit card is the usual way the cardholder applies the customization he or she chooses. The process is similar to choosing to open any file: one navigates to the desired file and selects it. There are likely to be overall file size requirements and dimension requirements, and the web-based tool may be able to crop and downsize files from the cardholder's computer. Alternatively, meeting the requirements can be addressed by editing the photo in standard photo editing software. Terms and conditions that apply to the images on custom cards are likely to follow a variety of laws protecting copyright, trademark, and publicity. For this reason, images that the cardholder does not hold the rights to or images of celebrities, for example, are likely prohibited.
AS FEATURED ON:
AS FEATURED ON:

By: Andres Rodriguez

A debit card.