Anyone who has ever watched a movie or television show set in North America's "Old West" has seen a cowboy hat. A cowboy hat is a wide-brimmed hat that traditionally was worn by ranchers and cowboys as protection from sun and rain. In modern times, the cowboy hat still is worn by working ranchers and cowboys. It also is commonly worn by equestrians in Western riding disciplines, even if they never herd cows. Many other people wear cowboy hats as a Western lifestyle or fashion statement, even though they might never have been on the back of a horse.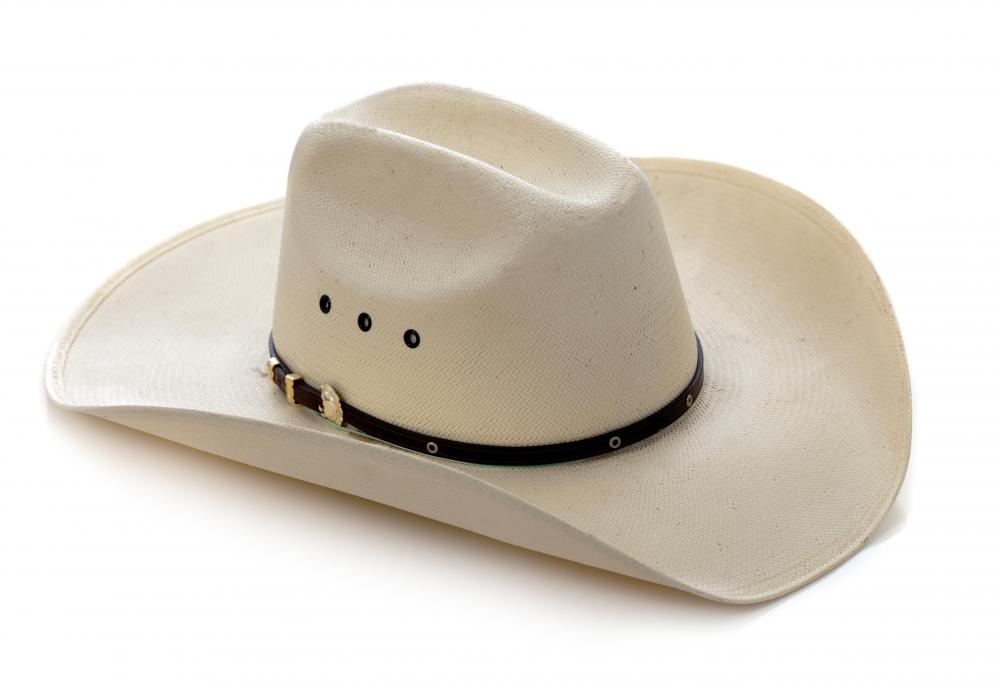 There are a couple of stories about how the cowboy hat might have originated. One theory is that it evolved from the Mexican sombrero, adapted by the first cattle ranchers who had come west from the eastern United States. Another belief is that it was invented by John B. Stetson on a trip to the west during the mid 1800s. The classic Stetson hat is one of the most popular brands of cowboy hat on the market.
Cowboy hats come in a myriad of materials, colors and styles. They are made of wool felt, fur, straw and leather. Cowboy hat colors in early Western movies often included black and white, with black designating the bad guys and white the good guys. More traditional colors today are brown, black and tan, but hats come in just about every color imaginable, especially for women.
One of the most distinctive styles of cowboy hat is the ten gallon hat. Like the origins of the cowboy hat itself, there is no single theory for how the name of this hat evolved. Taller than other cowboy hats, with a wider brim, the ten gallon moniker is sometimes said to have come about because of the amount of water the hat can hold, although even the largest ten gallon hats don't hold anywhere near ten gallons. Another theory is that the name came from the Spanish word "galón," which means "braid" and refers to a hat with braiding on the brim.
Cowboy helmet hats designed for safety are made to protect the heads of riders in the event of falls from horses. These helmet hats buckle under the chin to ensure that they stay in place. Safety hats in cowboy styles also are made for construction sites and other jobs that require wearing hard hats. Cowboy helmet hats and safety hats usually are manufactured to the government safety standards for their respective uses.