What is a County Grand Jury?
A county grand jury is a group of people who are charged with determining whether a person should be formally charged in a criminal case or who provide oversight for the county government in civil matters. Grand juries were once commonplace in many legal systems; however, they are now all but non-existent outside of the United States. Within the United States, both the federal judicial system and many state and/or county judicial systems use grand juries. In California, for example, the state Constitution requires that all counties have a grand jury convened at all times.
When county prosecutors believe they have enough evidence to charge a suspect in a criminal case, they often take the evidence to a county grand jury. In most cases, a criminal county grand jury is made up of people randomly selected from the county voter registration list to serve on the jury. The idea is to get a representative cross-section of the community as would be present on a petit jury that is convened to hear a criminal trial. Jury members may be called to serve for a day, a week, or longer, depending on the county system.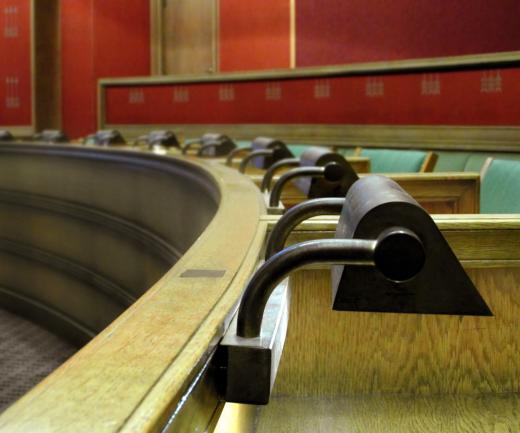 Once the criminal county grand jury has been convened, the prosecutor or district attorney will present the evidence he or she has against the suspect to the jury members. Essentially, this is the evidence that the prosecutor would present at trial if the case were to go to trial right then. The jury members are not charged with deciding guilt, but whether or not there is a strong enough suspicion to formally require the suspect to stand trial. In some jurisdictions, the prosecutor or district attorney has a choice whether to charge the suspect directly or to present the case to a county grand jury for an indictment. In other jurisdictions, certain types of cases, such as serious felonies, are required by state law to be charged by a grand jury indictment.
Many county governments also use civil county grand juries. A civil county grand jury is very different than a criminal grand jury. Members are usually appointment or selected by the county government or county judges and frequently serve for a year or longer. A civil grand jury is charged with oversight of the county government and investigation of citizen complaints. All entities that receive county tax dollars are subject to investigation by the county civil grand jury. The members of the jury usually have great latitude to decide what entities they choose to investigate each year.
AS FEATURED ON:
AS FEATURED ON:

By: mino21

A grand jury decides whether to charge some one with a crime.

By: Robert Hoetink

A criminal county grand jury usually consists of people randomly selected from the county voter registration list to serve on a jury.