What is a Construction Mortgage?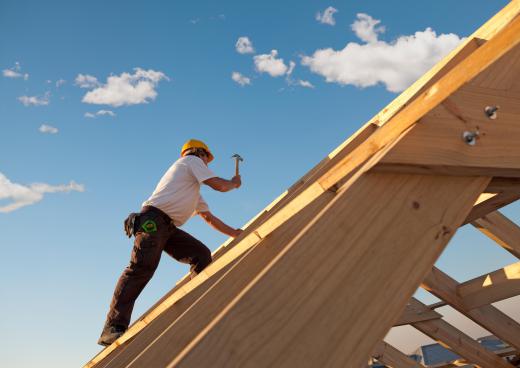 A construction mortgage is a type of mortgage loan that aids in funding the construction of a new building, such as a home, or in covering the costs associated with making significant renovations to an existing edifice. Most loans of this type are structured so that only payments on the interest are made during the actual period of construction. Once the building process is complete, the construction mortgage reverts to a regular or normal mortgage, and the debtor begins to make payments on both the principal and the interest.
In most cases, a construction mortgage is arranged with what is sometimes referred to as a delayed draw term loan. Essentially, this means that the total amount of the loan is approved, but not provided to the debtor in one lump sum. Instead, the funds from the construction loan note are supplied incrementally, when and as needed to fund the next phase of the construction process. This arrangement makes it necessary to plan the project finance aspect of the construction as precisely as possible, since some lenders may require review of the construction before releasing the next disbursal from the remaining loan amount.
It is possible to use a construction mortgage with both residential and commercial property development. For individuals who own property, this type of loan makes it possible to design a floor plan for a new home, obtain the financing needed to begin construction, and draw on the approved loan amount as the construction progresses. Business owners who wish to build commercial buildings such as malls, shopping centers, or office buildings can utilize the same basic format.
For a homeowner, the real benefit of the construction mortgage strategy is that it is possible to keep monthly expenses low until the home is finished and ready for occupancy. In the interim, the owner may sell other property that can be used to offset the price of constructing the new home, or otherwise arrange his or her finances to manage the new mortgage with relatively little effort. In like manner, a business that makes use of a construction loan approach can secure tenants for the building before it is ready for occupancy, effectively establishing a revenue stream that can cover the full mortgage payments that begin as soon as the construction is completed. This approach makes it possible to allow the newly constructed mall or office building to pay for itself, leaving the owner with little to no out of pocket expenses.


By: sculpies

Construction mortgages can cover renovations.

By: Tom-Hanisch

Construction loans may be issued for both commercial and private projects.